Macao revels in the seasonal bounty of lobster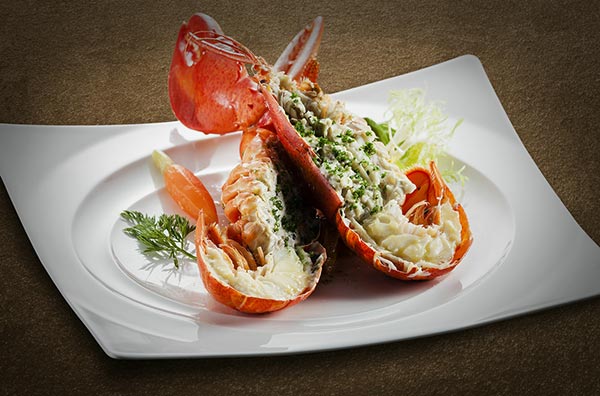 Lobster thermidor with black truffle and pistachios. [Photo provided to China Daily]
Ordering a lobster while dining out may strike some as self-indulgent, but the country's connoisseurs eagerly welcome the crustaceans, even if it means flying the creatures from the United States, Australia or Canada.
Lobsters became popular in China early in the 1990s, after the country adopted the opening up and reform policy. By 1998, there were upwards of 10,000 tons of lobsters flown into Shanghai's Hongqiao airport every year, according to statistics from the municipality's customs agency.
In 2014, exports of live and processed lobsters from the US to China peaked at $90.5 million, 40 times of that of five years earlier.
Why? There is a growing awareness of seafood as a healthier source of protein than red meat. China's millions of middle-class citizens have increasing purchasing power. Finally, the aggressive expansion of e-commerce websites that offer fresh and frozen food makes it possible for more families to enjoy the once luxurious shellfish at home.
Seizing the seasonal opportunity, Galaxy Entertainment Group, Macao's second-largest hospitality and entertainment operator, this summer has launched its first lobster festival-likely the biggest seen in China. There are 35 lobsters dishes created by 25 chefs from restaurants across the group's three outlets-a raft of fine dining establishments with a combined 11 Michelin awards. About 13 tons of the crustaceans will be cooked and feasted upon, organizers say.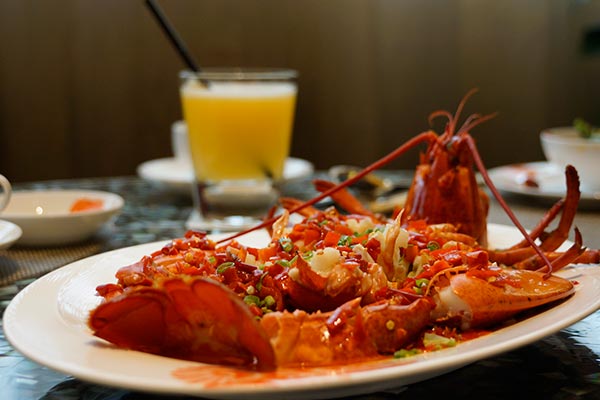 Lobster thermidor with black truffle and pistachios. [Photo provided to China Daily]
Hotel management of 1.1-million-square-meter spectacular compound, has made it clear – to focus on the mass-market customers, the prices of the lobster dishes, all newly created for the festival, are dock cheap. And the size of Lui's business has allowed the company to profit from the volume sold. Prices range from MOP 38 ($4.57) for a lobster-loaded sandwich, to MOP 380 for an almost basin-sized bowl of rice in lobster soup.
"Lobster is the most meaty among all crustaceans," says Antimo Maria Merone, executive chef at 8½ Otto e Mezzo Bombana Macao, adding that the shellfish is sweet and delicate despite the hard shell.
The way the Naples native "dresses" the plump marine beauty in a warm lobster salad is barely dressing it at all-a bikini to highlight its stunning features.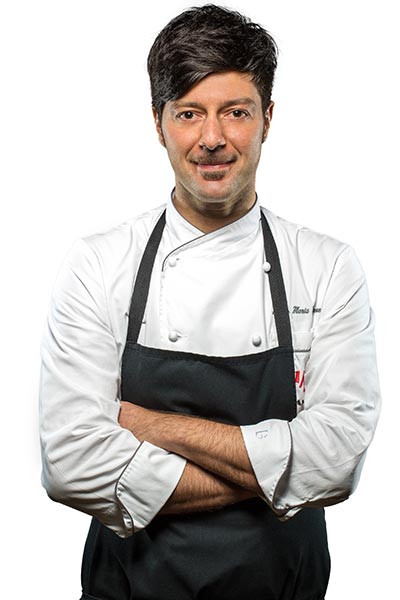 Chef Antimo Maria Merone at 8½ Otto e Mezzo Bombana Macao. [Photo provided to China Daily]
The refreshing appetizer has a base of beetroot sauce combined with a few other vegetables and orange puree. The combination of acidity with the earthy flavor of beet makes a great match with lobster. The caviar on top adds a simple but sumptuous touch of salty flavor.
Meanwhile, Ho Wa Seng, chef at Feng Wei Ju, goes to the other extreme by making the shellfish spicy-hot.
Taking inspiration from the signature dish that almost defines Hunan cuisine-fishhead spiced with green and red peppers, chef Ho employs his secret preserved chili, which has a score of different types of peppers from Sichuan and is prepared five days ahead.
The Boston lobsters selected weigh around 500 grams, which Ho and Merone say is ideal for the seafood's juiciness and texture. Since lobsters are lighter in flavor and more refreshing compared with the fishhead used in Hunan cuisine, chef Ho cuts the amount of green pepper in order to preserve the original flavor of the shellfish.
The vermicelli under the lobsters, after you finish the shellfish, soaks up all the spicy and savory flavor from the chili sauce. The idea is "borrowed" from a traditional Cantonese dish-baked lobster with e-fu noodle in cheese.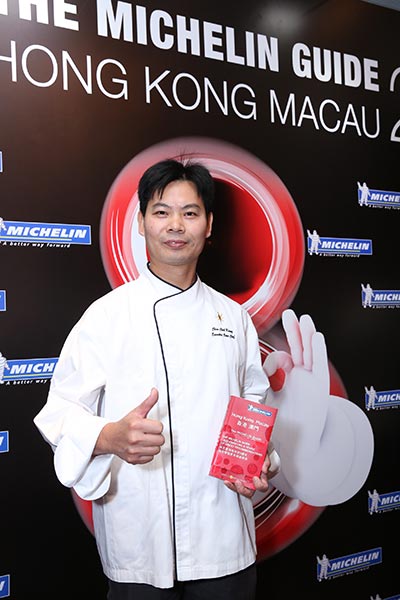 Chef Ho Wa Seng at Feng Wei Ju. [Photo provided to China Daily]
Though he has been cooking Cantonese cuisine since the age of 15, Macao native Ho, now 51, says it was not until 12 years ago, after a trip to Sichuan, that his palate was "awakened by the peppers". Now he's addicted, he says.
This inspired Ho to travel back to Sichuan at least twice a year, and he's now joined one of the most coveted Sichuan restaurants in Macao, which earned a Michelin star last year. His kitchen has turned into a "pepper lab".
"Someone says peppers mask the original flavor of food and make everything taste the same. I think that's only for lousy pepper users. Like lobsters, a good chef knows what makes it more divine," says the chef.
If you go
Galaxy Macao
Avenida de Cotai, Cotai; participating restaurants include 8½ Otto e Mezzo Bombana and Fook Lam Moon.
Star World Hotel
Avenida da Amizade, Macao; participating restaurants include Feng Wei Ju.
The lobster feast runs till the end of July. Some restaurants will continue to offer the lobster dishes as long as the seafood is available. 853-8883-2221.
Related:
Crustacean creativity on display