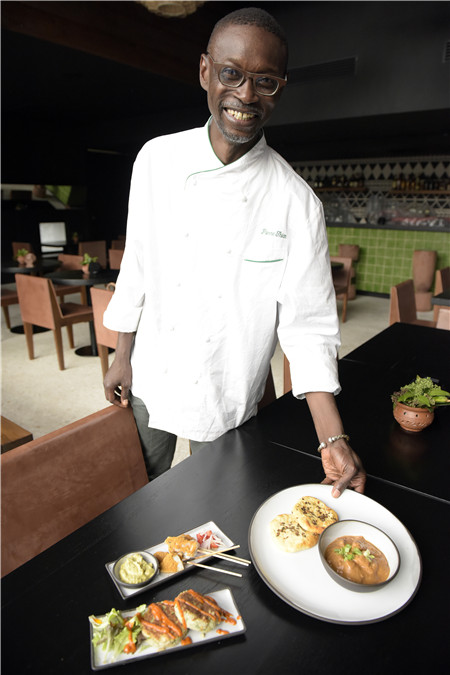 Senegalese the pioneer of African cuisine Pierre Thiam tries to serve clients with food he prepared at Nok By Alara, a restaurant in Victoria Island district of Lagos. [Photo/AFP]
An ambitious restaurant in Lagos is setting out to elevate Nigerian street food staples to fine dining, tapping into a growing hunger in the city for upscale West African food.
Classic West African dishes, passed down from mother to daughter for generations and served today in busy streetside canteens, are revisited in "Nok By Alara" by Pierre Thiam, a Senegalese pioneer of African cuisine.
Thiam's menu scours the continent for inspiration, combining ancestral know-how with elements of popular cuisine.
The result, a fragrant lobster "pepe"-Nigerian pidgin English for pepper-soup, savoury sweet potato and plantain pancakes and hibiscus tarts.
"Coming to a country that isn't your own and presenting a cuisine that aims to be inspired by this region is a tricky endeavour," Thiam says.
"I was expecting to meet some resistance," he said, but was "pleasantly surprised" at the positive reaction.
"People are so happy to have these flavors from childhood."
It's not just the taste that has people hooked. At last, hearty West African food, usually visually bland, is plated with a discerning eye.
"This food that you grew up with is presented in a way that you would not expect," food blogger Nosa Oyegun says.
"There's that real fine dining with Nigerian food, which we had never seen anywhere, that's really fascinating."