A wild place that wields a natural youth appeal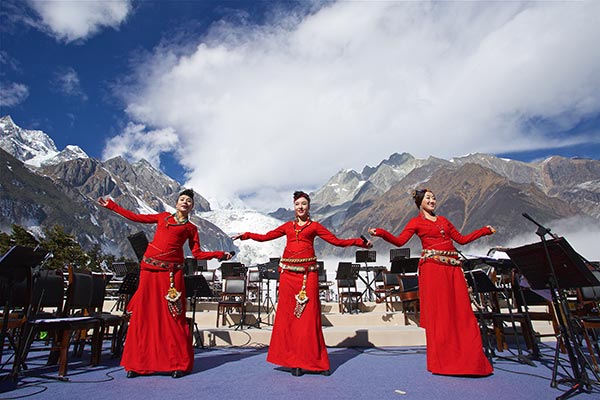 Tibetan women dance on an outdoor stage in front of the snow mountains in the Hailuogou scenic area. The picture is among the exhibits of the ongoing photo exhibition that's touring Beijing's universities. [Photo provided to China Daily]
Glaciers. Forests. Snowcaps.
Hot springs.
These are the charms Sichuan province's Hailuogou hopes will coax college students to visit.
"College students are one of the tourism market's most-active segments," says Wang Guangzhi, deputy director of the Hailuogou scenic area's administration.
"Targeting them will enhance our recognition nationwide."
Students will also get roughly a third off Hailuogou's 92-yuan entrance fee.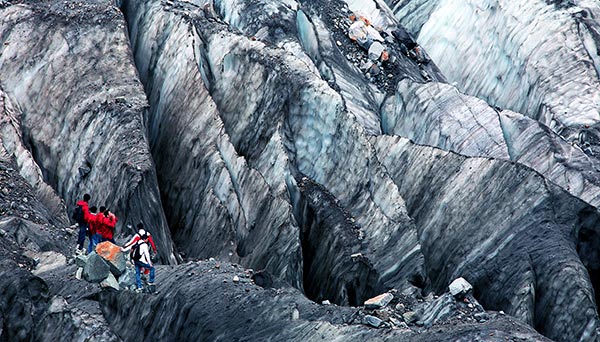 [Photo provided to China Daily]
The administration is hosting a photo exhibition that will this month tour Beijing's Tsinghua University; Peking University; Beijing Forestry University; Beijing International Studies University; and Central University of Finance and Economics.
Over 100 photos portray Hailuogou's landscapes, customs and rare wildlife.
It's intended to lure people from big cities to relax in nature, organizers say.
The scenic spot's administration signed a memorandum with Beijing International Studies University on the exhibition's opening day.
It will arrange for students to engage in service learning at the site and will set up a fund for students majoring in ethnic tourism.
It has received more than 30 interns from Tsinghua since August.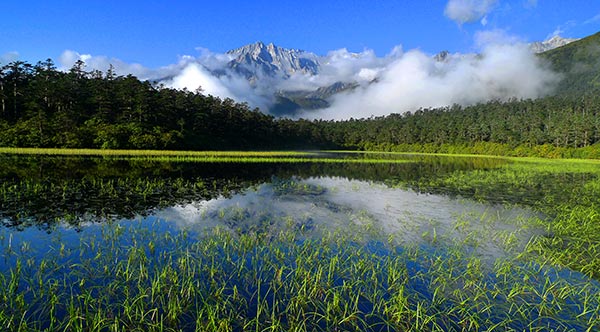 [Photo provided to China Daily]
"They study biodiversity and ecology," Wang says.
The peak attraction is the 7,500-meter-high Gongga Mountain-the park's highest. It's surrounded by 45 snowcaps over 6,000 meters above sea level.
"The sun shining on the mountains' snow is breathtaking," Wang says.
Especially in winter.
Seventy-five glaciers plate Hailuogou. The longest is nearly 15 kilometers. A 6-km glacier glazes a primitive forest, creating contrasts of green and white.
Hailuogou's icefall is the country's largest at 1,100 meters wide and 1,080 meters high.
Geothermal springs steam in places hidden in ancient forests in the shadows of snowy mounts and glaciers. Visitors can soak in pools that exhale vapor amid pine boughs that heave with snow.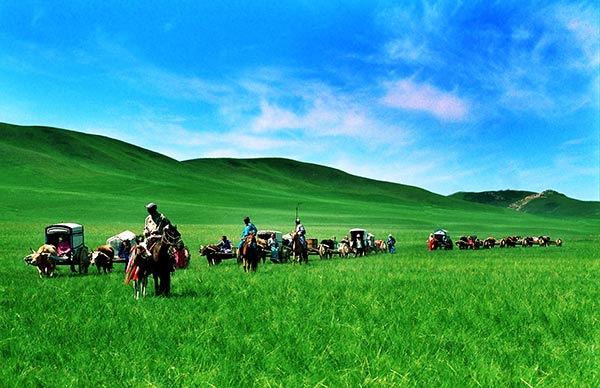 [Photo provided to China Daily]
But the area's allure extends beyond natural splendors to include cultural components.
Hailuogou is home to 13 ethnicities, including Tibetan and Yi people.
About 700,000 outsiders visited last year, up 20 percent from 2014.
Most drove, Wang says.
Officials expect over 1 million arrivals by the end of 2017, when the expressway connecting Ya'an to Kangding is completed.
Then this natural wonder will naturally acquire a higher place on travelers' itineraries.
Perhaps especially among young explorers.
Related:
Traditional incense production in Nyemo county, China's Tibet