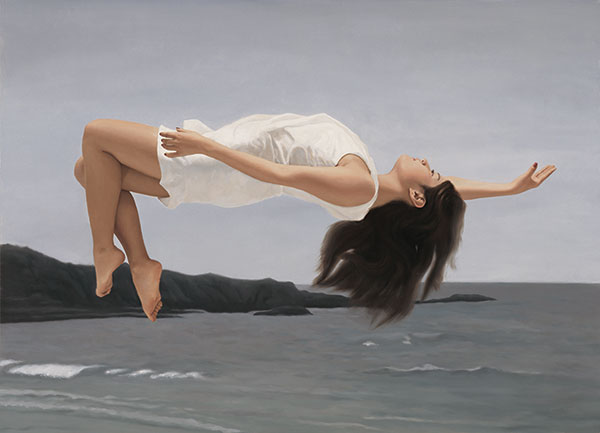 A painting from the "Suspension" series by Liu Yanfeng. [Photo provided to chinadaily.com.cn]
Modern artist Liu Yanfeng, through his impressive "suspension" paintings, ponders the relationship between man and nature.
"Nowadays, people are facing much pressure in life and bound by many trivial things," Liu Yanfeng said, "My 'suspension' paintings portray people's state of tranquility and their free souls".
"Modern art is closely related with society. You may not understand them at the first sight, but when you get sudden enlightenment, or resonate with the artist, you will find it very interesting," Liu said.
The "suspension" series was inspired by Liu's trip to Southeast Asia. When he was taking a vacation there, he noticed that people there live an easy and natural life, totally enjoying their own lives. Their simple attitude to life touches Liu a lot, and he thinks this is what life should be like originally.
The relationship between man and nature is a theme Liu always explores. "Oriental thought stresses the interaction between humans and nature, and thinks that the two should be integrated with each other." This is quite different from Western thought which regards humans as the center of the world.