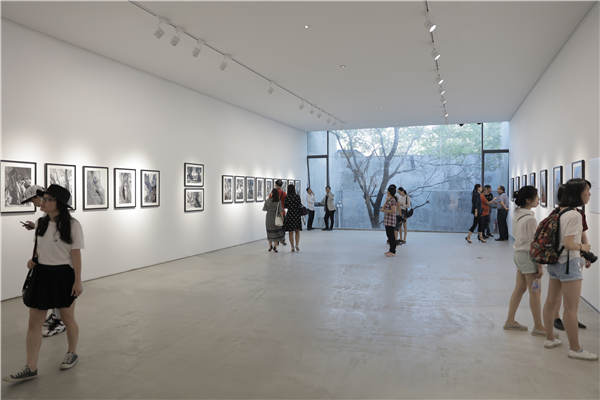 People visit the ongoing exhibition Meet Renoir Under Olive Trees in the 798 Art Zone in Beijing. Photos provided to China Daily
Baijia Lake Art Center Beijing is holding an exhibition of Renoir's works. The event is one among many which is feeding a thirst for Western art. Lin Qi reports.
Yan Lugen, who is in the real estate business, is known as an avid collector of Western art.
He is believed to have amassed hundreds of works of Pablo Picasso, Claude Monet, Paul Gauguin and Auguste Rodin, among others, over the past decade.
The self-made billionaire is passionate about turning his interest in art into a business. So, two years ago he founded the Baijia Lake International Culture Investment Group, which organizes cultural projects, and the company's core product, as he tells China Daily, is to stage shows of "international art masters" at home.
On July 1, Yan inaugurated his Baijia Lake Art Center Beijing, in the 798 Art Zone, with an exhibition called Meet Renoir Under Olive Trees. It has 45 high-resolution reproductions of the French impressionist artist's works.
The original works were painted in the last 20 years of the artist's life, which were spent at Les Collettes, a farm full of olive trees.
The paintings are now scattered among some 20 museums worldwide, according to Teit Ritzau, the CEO of UEG ADM, a Danish company which specializes in traveling exhibits, and which is helping run the ongoing Renoir exhibition.
The one-off copies were made more than a decade ago for a film about Renoir's life by his great-grandson Jacques Renoir, a film director and photographer.
The great-grandson, who attended the exhibition opening, tells China Daily that the Renoir family were authorized by related museums to make these copies of the original paintings.
Jacques Renoir's black-and-white photos of Les Collettes are also on show.