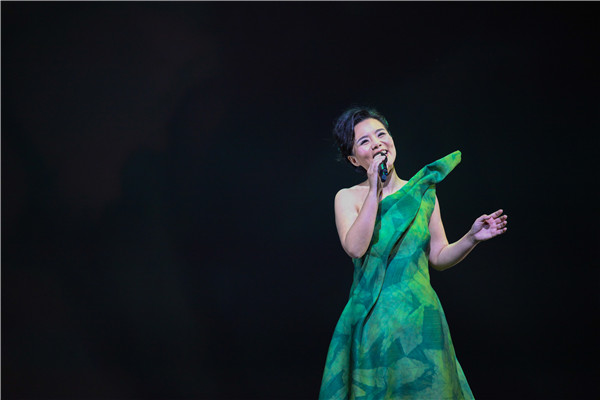 Gong Linna at her May concert, "Five Elements of Love". [Photo provided to chinadaily.com.cn]
"Before I took the vocal training taught by Gong Linna, my voice was kind of rough. A year's training totally changed that," said Zhu Xing, a Beijing resident in her 50s.
Zhu is one of the 40 or so residents of a northern Beijing community who have participated in the vocal training project taught by Gong.
Just like the others, Zhu said she first came for Gong's fame, but as days went by, she became a part of the choir and benefited in many ways.
"In addition to learning how to sing and use our voice, we have become more optimistic and enthusiastic about life," Zhu said.
The vocal training project, which came from an idea by the community head, was carried out by Gong for more than a year.
Gong said while she felt happy she could help the elderly learn something new, she also accepted the invitation for her own purposes.
"I had always wanted to collect the traditional singing methods for teachers in Chinese musical schools to use in their teaching, so I launched the Vocal Initiative(or Shengyin Xingdong in Chinese) in 2009, collecting traditional Chinese singing techniques and studying them, trying to work out a way to teach those skills," Gong said.
"Now it's the seventh year since the Vocal Initiative has been put forward, and the primary work has almost finished, so we can see if the training methods were effective. I'm glad it's working out for the choir."