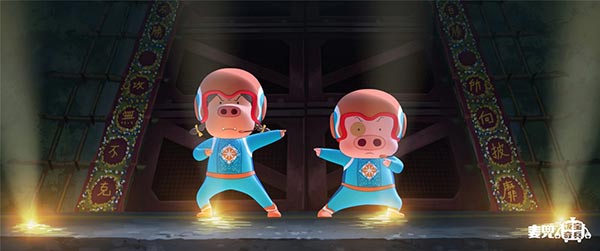 A scene from "Mcdull, Rice of The Rice Cooker". [Photo/Mtime]
An animated film "Mcdull, Rise of The Rice Cooker", which was produced to mark the 20th anniversary of the character Mcdull's birth, has recently been re-scheduled to arrive in Chinese theatres on September 15, or Mid-Autumn Festival.
A magic robot Rice Cooker has been disclosed in a latest edition of the movie trailer, in which Mcdull uses this robot as a secret weapon in defeating monsters.
Growing up in a small fishing village, McDull is a pig without any superpowers. But he has a great enthusiasm for science, and one day hopes to become an inventor.
In previous Mcdull movies, Mcdull had always been dreaming to become a hero, an Olympic Game winner, or a marvelous traveler who had been to as far as the Maldives, but they were merely fantasies. Yet, in this upcoming movie, Mcdull would finally achieve his hero dream by fighting against the alien Pipi monster and save Earth.
Animator Brian Tse is behind this famous Asia animated flick, which is the seventh movie in the Mcdull series. The movie was originally announced to hit theaters in the Chinese mainland on July 22. It was postponed as there have already been too many summer releases.
Related:
Venice film festival announces Zhao Wei as juror