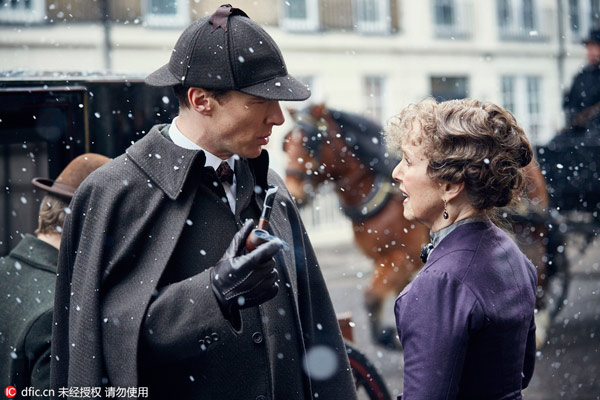 Mr. Sherlock talks to Mrs. Hudson in the TV series Sherlock. [Photo/IC]
Benedict Cumberbatch has attended the Comic-Con to promote his upcoming new installment of Sherlock with its executive producer Steven Moffat.
Although Moffat was extremely tight-lipped about the upcoming fourth season of Sherlock, the team behind the beloved drama still made a splash on July 24 at Comic-Con.
With the exception of last year's Victorian Christmas special The Abominable Bride, Sherlock hasn't released new installments since 2014.
Hundreds of fans starved for information and footage from season four went so far as to camp out overnight to ensure they made it into the panel.
Cumberbatch visited some of the fans Saturday night and thanked the crowd for a "humbling" reception at the panel.
"I was like 'What'? So how long have they been here?" Cumberbatch asked.
"All day," fans answered.
"What? All day in this heat? Have they got water?" Cumberbatch asked again.
"Yes, some of them, some of them don't. There's water," fans said.
"What? Are they going to live on the street tonight?" Cumberbatch asked.
"Yeah," fans screamed.
"Can I go and talk to them? I want to meet the people that make all this possible. Because it's all about that. It's all about them. It's about their enthusiasm, their devotion and it's overwhelming and utterly humbling," Cumberbatch said.
Although the panel was light on spoilers, the team unveiled the first season four trailer. The lengthy video, which teased that "everything they know will be tested," elicited cheers, gasps and thunderous applause from the room.
Premiering in 2017, season four will consist of three 90-minute episodes and feature new addition Toby Jones, who can be seen in the trailer.
Part of the reason for the delay has been the actors' busy schedules. Cumberbatch is next set to headline Marvel's Doctor Strange.
Related:
'Sherlock' hits Chinese cinema