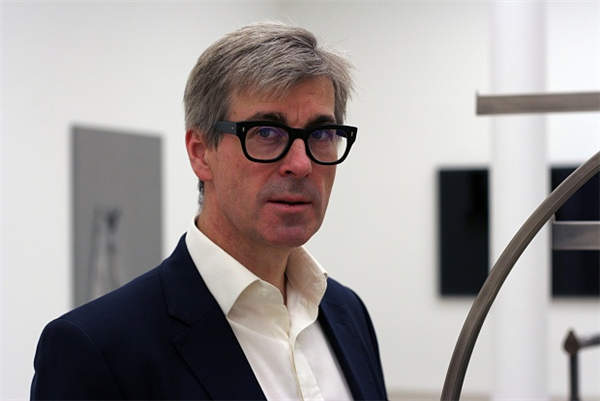 Timothy Taylor and his London gallery are reaching out to China's booming art market. Photo provided to China Daily
Abstract artist Ding Yi from Shanghai has become the first Chinese to be represented in the United Kingdom by the British gallery Timothy Taylor.
Ding, 64, is known for his distinct style that features patterns of crosses and grids arranged in varying arrays. Some of his pieces are with museums such as the Centre Pompidou in Paris, and have been acquired by the auto company Daimler for its art collection.
Timothy Taylor, after whom his London gallery is named, tells China Daily in an interview over email that he has followed Ding's career for the past decade and that he felt Ding's works should be introduced to European audiences. Taylor has been visiting China for a few years now, scouting for artists he would like to work with.
"Up to this point the only artist who has interested me at that level is Ding Yi," Taylor says.
"I don't see him as a Chinese artist but as an international artist whose work engages in a global dialogue."
Taylor's gallery of two decades occupies a 464-square-meter space in the upscale Mayfair area in London, and represents 24 artists, including modern American artists Sean Scully and Kiki Smith.
Representing Ding is just one of its plans to reach out to China's booming art scene.
The gallery has appointed Chinese-Canadian Kate Wong as its associate director to develop its presence in China, including working with prestigious museums, galleries and cultural institutions here. Wong runs her own gallery in Vancouver, and has been working with Timothy Taylor for the past three years.
The gallery will participate in this year's West Bund Art & Design fair to be held in Shanghai in November.
Taylor says they have ambitious projects lined up for the next year and will continue to invest resources into developing relationships with local art communities.
Asia - particularly China - has become a priority for international galleries in recent years. In May, Hauser & Wirth, a gallery that operates spaces in several cities, including Zurich, London and Los Angeles, appointed Guo Qianqian, a former Christie's employee born in Chengdu, Southwest China's Sichuan province, as a director to focus on Asia, with an emphasis on the Chinese market.
Taylor, whose 20-year-old son now lives in Shanghai, says he is attracted to China by the same energy he experienced in New York in the early 1980s, when the city's art market was picking up, with dealers, artists and general art lovers all equally involved in figuring out trends.
In 2014, Taylor established a connection with China by co-organizing Scully's touring exhibition in Shanghai and Beijing. The Irish-American artist's exhibition in China toured the eastern city of Nanjing two months ago and will travel to Guangdong in September and Hubei provinces in January 2017.
Taylor says Chinese galleries, museums, curators and artists will only continue to become more interesting and relevant to the world.