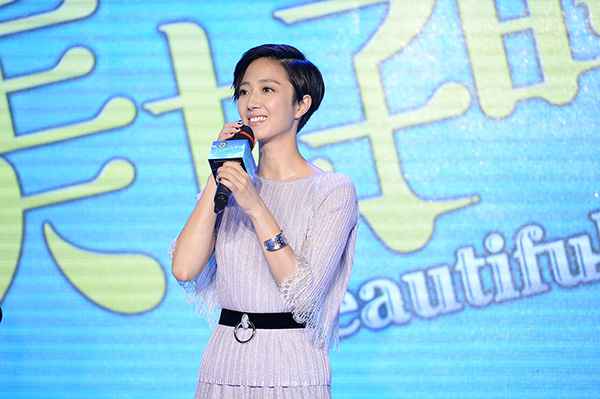 Kwai Lun-mei. [Photo provided to China Daily]
With
Blue Gate Crossing
,
Secret
and
Black Coal, Thin Ice
, Taiwan actress Kwai Lun-mei has shown her interest in indie movies.
But the upcoming romantic comedy Beautiful Accident has taken the award-winning actress on a seemingly commercial route.
The feature, set for a nationwide release on Aug 12, is being jointly produced by Chinese studio Huayi Brothers and South Korean company Showbox. The story narrates a tough lawyer's journey as she experiences a car crash and wakes up to find herself transformed into a housewife.
Her daily life switches from competing against rivals in court to taking care of two children and a husband despite not knowing her new family earlier.
"The film explores life's possibilities. For most people, they may never have the chance to 'become someone else,'" Kwai said at a recent promotional event for the movie in Beijing.
In the movie, Kwai's character experiences desperation at first to discover joy later.
"It turns out to be a beautiful accident," Wi Ding Ho, the Chinese-Malaysian director, said of the movie's title.
Other than Kwai, the cast includes Chinese stars Chen Kun and Wang Jingchun.
The movie also has South Korean boy band Exo singing the theme song in Mandarin.
Related:
'Cold War II' continues to lead Chinese box office