Actor offers a peek at celebrity life with Angelababy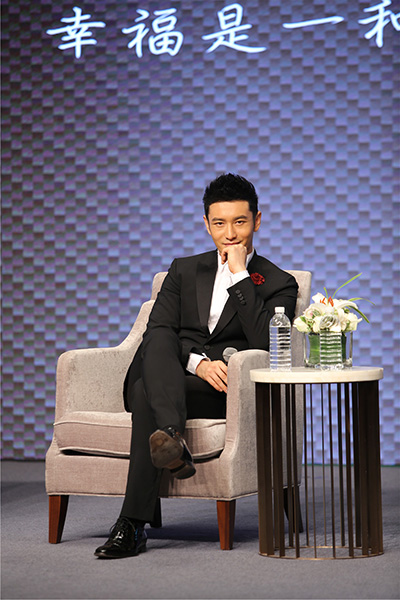 Actor Huang Xiaoming. [Photo provided to China Daily]
Chinese actor Huang Xiaoming showed up in Shanghai on June 17 as the spokesman for a local wedding photography company.
The 38-year-old actor, who last May married Chinese actress Yang Ying, also known as Angelababy, shared stories of his marriage life with the audiences.
"We rarely meet each other since both of us are busy. I try to work in the same city with her, like her hometown, Shanghai, to spend more time with her," says Huang.
The celebrity couple has been listed as one of the most charitable couples by the Hurun Report.
During the news conference he also discussed his experience as an investor with Xu Xiaoping, one of China's foremost angel investors and founder of ZhenFund.
In April this year, Huang founded his own investment firm, Ming Capital, going for business in various fields, such as technology, hospitals and fitness, which proved to be quite profitable.
As a successful entrepreneur, Huang says, he's more like a product manager than an investor.
"I have my own understanding for products, and I am pretty sensitive to new concepts about fashion and young people's lifestyle, since I have worked in the industry for so many years. I want to help startups with my insight and resources," Huang says.
Born in Qingdao, Shandong province, Huang graduated from the Beijing Film Academy and rose to fame by starring in TV series such as The Return of the Condor Heroes and Shanghai Bund.
He also starred in movies, including American Dreams in China and The Message, which won him a large fan base.
Related:
Angelababy gets into the game for upcoming movie