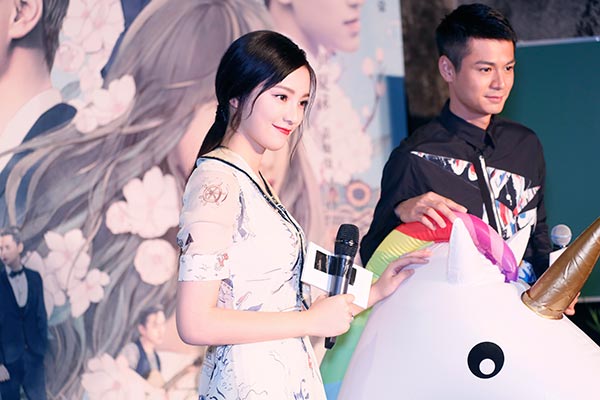 Cast members Huang Cancan (left) and Law Chung-hum. [Photo provided to China Daily]

Summer's Desire, adapted from the namesake best-selling novel, opened to a 5.2-million-yuan ($778,617) box office on July 21.
The coming-of-age romance, starring actress Huang Chanchan, Hong Kong actor Law Chung-hum and Chinese-Canadian actor Jerry Yan, beat the stellar-cast Never Gone, led by A-listers Liu Yifei and Kris Wu, to be the highest-grossing youth romance on that day.
Spanning nearly 10 years, the story revolves on a young woman's heartbreaking romances with a business tycoon and a megastar.
It depicts lots of luxury lifestyle elements, such as the tycoon taking a private plane to go to school and purchasing a yacht as a gift.
"Unlike most coming of age romances, which depict a life close to our own, the sets in Summer's Desire are far beyond the regular life," says Lai Chun-yu, the Taiwan director, at a recent Beijing event.
Written by the pop novelist Ming Xiaoxi, the romance tale was first published in 2006, and quickly became a sensation online. Around 1 million copies have been sold to date.
"As the values may be not as appealing today as to readers back then, we've made a big revision," Lai says.
The feature is also Hong Kong singer-actress Gigi Leung's production debut in a showbiz career spanning nearly two decades.
Huang, a former online sensation hailed as the most beautiful woman in Wuhan University, says Summer's Desire is her second feature.
"Most of the cast have spent 40 days training in Taiwan. We learned more through performance to make us more close to the roles," she says.
Related:
Kwai Lun-mei finds joy in 'Beautiful Accident'