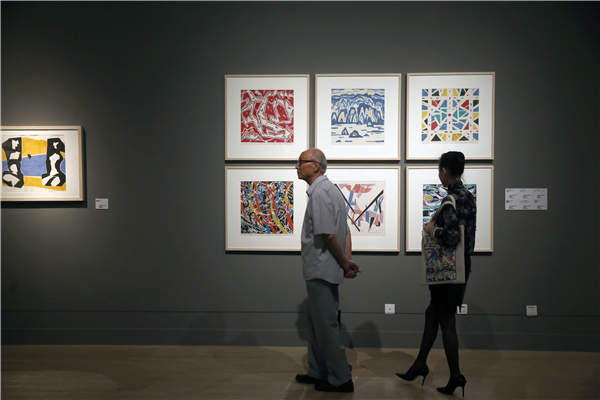 Yan Han's retrospective exhibition showcases his woodcut works in Beijing. Jiang Dong / China Daily
In 1938, while fleeing the invading Japanese troops, two students of the China Academy of Art in Hangzhou, East China's Zhejiang province, parted ways.
The institution was then called the National School of Fine Arts.
The students met again in Paris in 1987, when the late Yan Han, a noted printmaker at the time, was showing his works in the French capital where his former classmate Chu Teh-chun, a well-known abstract painter, lived.
Yan entered the Hangzhou school in 1935 and majored in oil painting. Besides developing his technique, he learned French because he aspired to someday study in the National School of Fine Arts in Paris. But the war in China directed him toward a different life.
He traveled to Yan'an, then-base for the Communist Party of China in Shaanxi province. There he became a printmaker for the CPC, creating and distributing patriotism-themed woodcuts.
After the founding of New China in 1949, he continued to produce prints that reflected social progress while teaching at Beijing's Central Academy of Fine Arts.
A retrospective show of Yan's art, titled The Immortal Soldier, is now being held at the National Art Museum of China.
The displayed works showcase his productivity and hail his fighting spirit in the pursuit of truth. Some 300 lithographs and paintings are on show, selected from donations from Yan's family to the NAMOC.
The exhibition also celebrates the 95th anniversary of the founding of the CPC this year.
Many exhibited woodcuts were created during wartime and they narrate the plight of common people and the heroism of soldiers on the front line.