Chengdu hotpot faces regulation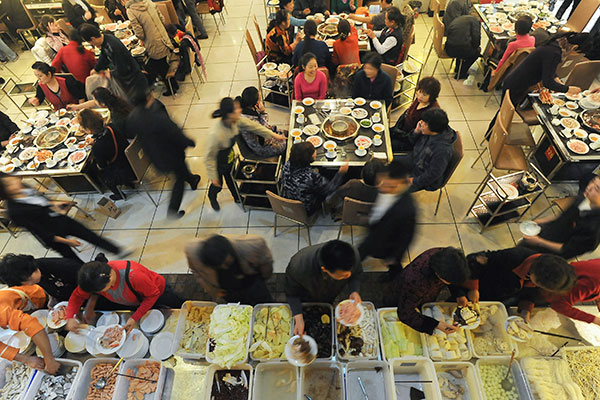 People dine at a hotpot cafeteria in Chengdu, Sichuan province.[Photo provided to China Daily]
Zhang Feng, an expert on lubricating oil at a research institute in Beijing, dined twice at a hotpot restaurant in Chengdu, Sichuan province, during his nearly five-day stay in the city.
"The hotpot was one of the elements that took me to Chengdu as a tourist with my wife and daughter in the middle of the month," he said. But he added that he had misgivings. He worried that the oil in the hotpot might not be as good as it appeared.
According to Li Zhiqiang, a restaurateur in Chengdu, "Recycled oil is used as a soup base in many hotpot restaurants to enhance the aroma."
Now, restaurants will have to change. The provincial Health and Family Planning Commission formulated a compulsory regulation earlier this month to ban substandard materials in the hotpot soup base.
"The regulation will take effect on Jan 15, and any hotpot restaurant in the province that fails to meet its requirement will be punished," said Fan Chuan, an information officer for the commission.
The province announced a similar regulation to standardize hotpot soup base in 2006. But it was only a recommendation to restaurants and did not impose penalties for noncompliance.
Under the new regulation, restaurants will be barred from using oils or additives containing excessive pollutants.
"Without regulation, restaurants might use oil from the guts of a pig, cat or dog instead of standard beef tallow. For aroma enhancement they might use spices grown in fields with excess chemical fertilizers or heavy metals," said Li, who worked in the catering industry for 22 years.
Hailing the new regulation as a good measure to ensure food safety, some netizens have wondered if restaurants will comply.
"About 70 percent of the hotpot restaurants are large ones and buy their materials for soup base from processing plants. If the government food watchdog keeps an eye on the plants, materials from them will meet the requirements," Li said. "The other restaurants are small and might make the soup base themselves. It is difficult to monitor them."