Shandong's classic Lu cuisine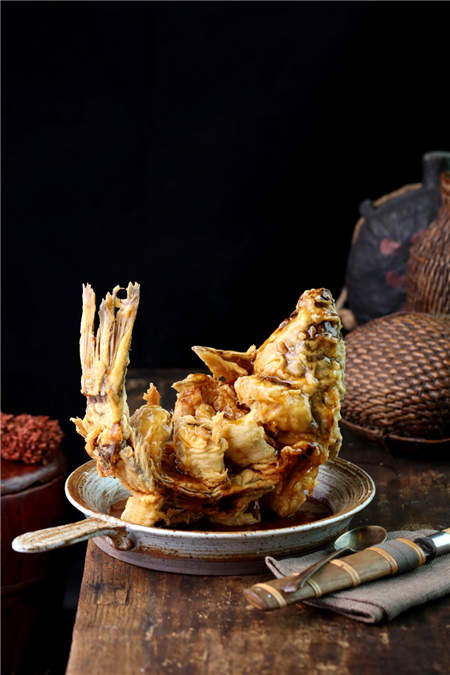 [Photo provided to China Daily]
Country Kitchen restaurant at the Rosewood Beijing hotel that features Northern Chinese comfort fare in the ambience of a rustic-chic Chinese village is paying homage to Shandong's classic Lu cuisine on its menu until Sept 20.
Lu cuisine is regarded as one of China's most influential culinary schools and the progenitor of northeastern cuisines. To make the dishes as authentic as possible, Leo Chai, chef de cuisine of Country Kitchen, paid a special visit to Shandong and explored traditional restaurants and markets to familiarize himself with the authentic cooking culture and traditional local ingredients.
Some of the choicest Lu cuisine specialties on the menu include sweet and sour carp, limited braised intestines in brown sauce and wok fried kidney paired with Chinese yam.
The chewy intestines employ traditional hand-crafted techniques and complex cooking, with intestines coiled layer by layer. With such a time-consuming cooking process, limited portions are available daily on a first-order-first-serve basis.
Chai also brought back Shandong's traditional Jinan-style sesame pancake with fine beef added as a juicy filling.
One dish that deserves special mention is sweet and sour carp, an exemplar of Lu cuisine's cutting skills. Authentic Shandong style sweet and sour carp is rarely found in restaurants in Beijing because of how complicated it is to cook. The carp is deep-fried to a golden color, scorched outside but tender inside, with a rich sweet and sour flavor. Meticulous knife work on the fish body leaves the carp curled, as if it is set to "jump over the Dragon Gate", the name of a Chinese folk legend that lauds the values of hard work and persistence.
If you go: Jing Guang Center, Hujialou, Chaoyang district, Beijing; 010-6536-0066.