Afternoon tealights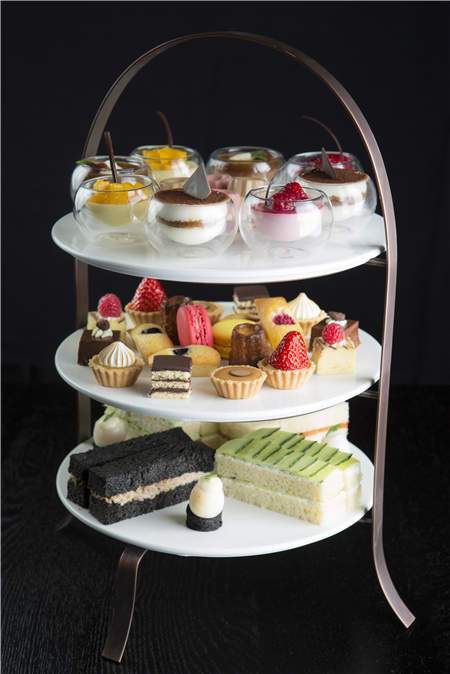 [Photo provided to China Daily]
Needing a tranquil moment to enjoy a cup of tea and delicacy with a stunning view of the Forbidden City? TRB Bites, a casual while modern restaurant alongside the former imperial palace's eastern moat, has just unveiled its afternoon tealights menu. The afternoon tea menu may be one of the most extensive ones in Beijing. For those with a sweet tooth there are cakes, macaroons, tartelettes, mousses and bavarois in various flavors; for the savory stomach there are cucumber cream cheese sandwiches with chives, salmon gravlax sandwiches, lobster sandwiches and foie gras burgers, to name but a few, and deep-fried snacks such as creamy spinach, vegetable tempura and spring rolls. The freshly baked scones, served separately and very warm, are moist and come in three flavors - original, chocolate and raisin - and are served with cream and strawberry and apricot jams. Afternoon tealights is available daily 2 pm-5 pm. The standard set costs 168 yuan for one, or 298 yuan for two. (Adding two glasses of sparkling wine takes the cost to 428 yuan). The deluxe set costs 190 yuan for one, or 368 yuan for two. (Adding two glasses of sparkling wine takes the cost to 500 yuan). Prices are subject to a 10 percent service charge.
If you go: 95 Donghuamen Dajie, Dongcheng district, Beijing; 010-6401-6676
Black garlic soup with stewed fresh abalone
Chef Huang Zhiling, the newly appointed executive chef of Yen restaurant on the second floor of W Beijing Chang'an Street, has unveiled a new menu of innovative Cantonese cuisine. It features a stunning soup that is well worth a try: stewed fresh abalone with black garlic, a type of caramelized garlic that delivers sweetness to the molasses. The scent of black garlic makes the soup tastier, and with a subtle, but lingering sweet aftertaste. The gooey softness of black garlic also corresponds with the chewy texture of the tender white abalone meat. It is a tasty and beautifully presented dish and highly nutritious.
If you go: Yen Chinese restaurant, 2 Jianguomennan Avenue, Chaoyang district, Beijing; 010-8590-1768.