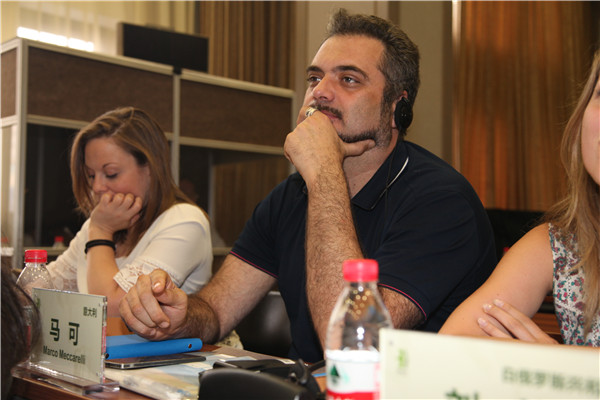 Marco Meccarelli attends a lecture in Beijing during the 2016 Visiting Program for Young Sinologists. [Photo/Chinaculture.org]
Marco Meccarelli is a lecturer at the University of Catania in Italy. He shared his story about how he became a Chinese art historian as he took part in the 2016 Visiting Program for Young Sinologists in Beijing.
I was born in a small town, Tolentino, in the heart of Italy, not far from the hometown of the great Italian Sinologist Matteo Ricci (known in China as Li Madou).
As a child I knew China through the stories of this famous Jesuit, which fascinated me so much. I remember when I was very young, I watched an American-Italian television miniseries, Marco Polo, originally broadcast by NBC in the United States, by Antenne 2 in France and by RAI state television in Italy in 1982.
After watching this movie I thought that I would like to visit China. All of the places looked interesting and I wanted to learn more about the culture. From an early age I had two passions – art and Chinese culture. They have always had a strong impact in my life choices.
So in the 1994 I decided to enroll at the University of Rome and study Chinese art. My first experience in China, thanks to a scholarship, was in the 2000, during a trip organized by Sapienza University.
I visited some of the major cities (Beijing, Shanghai, Xi'an, Suzhou, Hong Kong), and spent most of the time in the major museums looking at seasonal or temporary exhibitions of art and viewing scrolls kept in storage.
I learned more about China and Chinese culture. My last experience in China was in 2014. I conducted a research trip to Central China (Luoyang, Xi'an, Datong) to study archaeological excavation reports and related research materials from various libraries and institutions, and to visit and photograph artifacts in local museums and ancient sites in Henan, Shaanxi and Shanxi provinces.