Big-budget project set to cement ties with Australia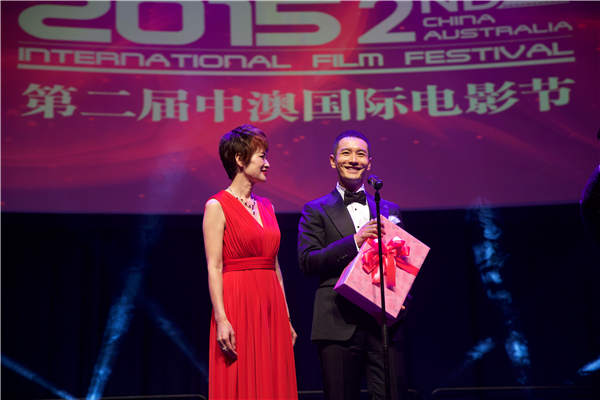 Tina Liu, executive president of the China Australia Film Festival, presents a wedding gift to Chinese actor Huang Xiaoming at last year's festival. Provided To China Daily
Cinematic ties between China and Australia are set for a quantum jump as the upcoming China Australia Film Festival will see the launch of a big-budget coproduction by the two countries.
Tina Liu, executive president of the festival's organizing committee, tells China Daily that up to 60 million yuan ($9 million) has been raised for the movie called Life by the Sea and filming will begin during the event.
The annual festival, initiated in 2014 as a consequence of Chinese President Xi Jinping's visit to Australia in November that year, is jointly organized by China's film regulator and VAC International Group, a Brisbane-based company.
This year's festival, now in its third year, is set to run from Oct 26 to 31, in Sydney, Melbourne and Brisbane, where China's recent top-grossing films will be screened.
While the list of films for the event is yet to be confirmed, organizers say that they've reached out to the producers of blockbusters including Cold War II, The Mermaid and Skiptrace.
China and Australia signed a film coproduction agreement in 2007, and it came into force a year later, but since then only a few coproductions have been released or are in the pipeline.
A series of high-profile forums have been held in recent years to push for more cooperation between China, the world's second-largest movie market, and Australia, known for its picturesque landscapes.
Yin Hong, a film scholar and professor of journalism at Tsinghua University, said earlier that such coproductions can take on Hollywood.
Now, following the footprints of Dragon Pearl and 33 Postcards, Life by the Sea is the latest project to culturally connect the two countries.