The liquid luxury of the Forbidden City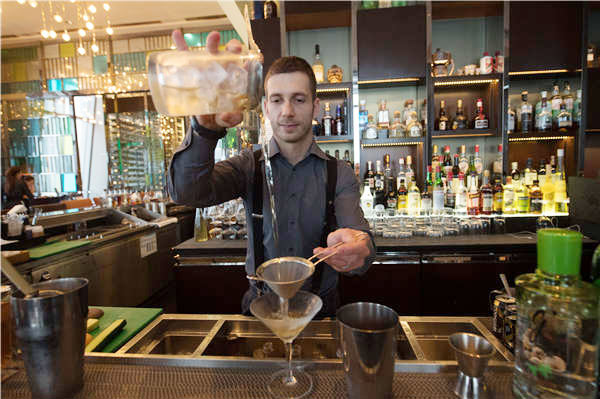 Attila Balint runs the bar Atmosphere at the heart of Beijing. Bruno Maestrini / China Daily
Attila Balint is showing his romantic side this summer. Not only is he newly married, but he's found a way to express his enchantment with the Forbidden City, one of his favorite places in Beijing.
"I first came to Asia in 2010, on a trip to Japan. Asia is so different - I just fell in love with it," he says.
He has since found his way to Hong Kong, to Taipei and now to China's capital, where he runs the bar Atmosphere, on the 80th floor of the China World Summit Wing. The Hungarian mixologist and his team have crafted eight cocktails and four "mocktails" for a pop-up menu inspired by the former imperial palace and the area's rich history.
That's a fairly extensive "liquid journey", as Balint calls it - so if you plan to go all the way, it might be a good idea to take a couple of friends along for the tasting.
In our group, the favorite may have been the very first drink prepared, which Balint has named Map of Beijing. "It has a base of pisco, a summer spirit that's very refreshing," he says. A series of other ingredients - fresh lemon, coffee beans muddled with sugar and salt, French plum liquor and orange peel - create layers of flavor that vary sip by sip.