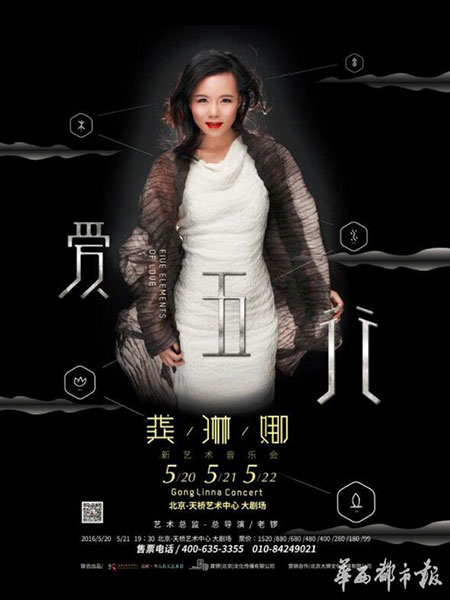 Poster of the Gong Linna Concert. [Photo/Huaxi Metropolis Daily]
Starting Friday, Gong Linna, a Chinese fusion singer, will give three concerts in Beijing. Two will be open to the public, while the one on Sunday will be a performance for charity.
The concerts, entitled "Five Elements of Love", will bring to Chinese audiences an innovative experience of new contemporary Chinese art.
The concept of "Five Elements" stands for gold, wood, water, fire and earth. It was rooted in ancient China and defined people, nature, knowledge and even universal relationships and interactions.
Gong's husband, Robert Zollitsch, a German composer and producer, is also the art director of this concert series. He said that the concept of "Five Elements" can well represent the Chinese culture.
Zollitsch says it describes the process of being in love: gold stands for calm, wood for attraction, water is sexy, fire is the climax of love, and earth means returning to family. Then the circle goes to the very beginning, with gold representing unchanging promise.
Gong said that this is the first time she will try to give meaning to a concert.
"In previous concerts, I sang the song, and that's it. But now I hope I can do a more comprehensive concert with its own logic and story," Gong said.
To achieve this, Gong will use different voices, different music, to eventually find harmony in this cycle of powerful energy.
If you go
Beijing Tianqiao Performing Arts Center, Tiaoqian South Street, Dongcheng district, Beijing.