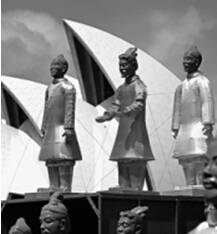 Lanterns of the Terracotta Warriors on display in Sydney Harbor in 2015.[Photo/Agencies]
China's Terracotta Warrior lanterns are to be the centerpiece of Spring Festival celebrations in Manchester in January, marking their first appearance in Britain.
The lanterns will illuminate Manchester's Exchange Square as part of the city's 2017 Chinese New Year program, the biggest celebration of its kind in the country outside Chinatown in London.
The event will be organized by Heart of Manchester BID along with the Federation of Chinese Associations of Manchester, Manchester City Council and the Confucius Institute.
Commissioned for the Beijing Olympics in 2008, the show has appeared in many iconic locations, including Sydney Harbor, Zagreb Central Square and Prague's Hradcany Castle.
Created by artist Xia Nan, the brightly colored lanterns are inspired by the famous Terracotta Army figures uncovered in 1974 near the tomb of China's first emperor.
Each standing more than two meters tall, the lanterns bring together two key elements of Chinese art and culture, namely the compelling story of the Terracotta Army and the 2,000-year-old tradition of lantern-making.
"The Chinese New Year celebrations in 2017 are set to be the biggest the city has ever seen," says a spokeswoman for Heart of Manchester BID.
"Manchester city center will see in the Year of the Rooster a four-day program (Jan 26-29), celebrating the very best of traditional and contemporary Chinese culture," she adds.
More than 6,000 traditional red lanterns will adorn the city's streets alongside a 15-meter tall Golden Dragon spectacle, with light shows and firework displays.