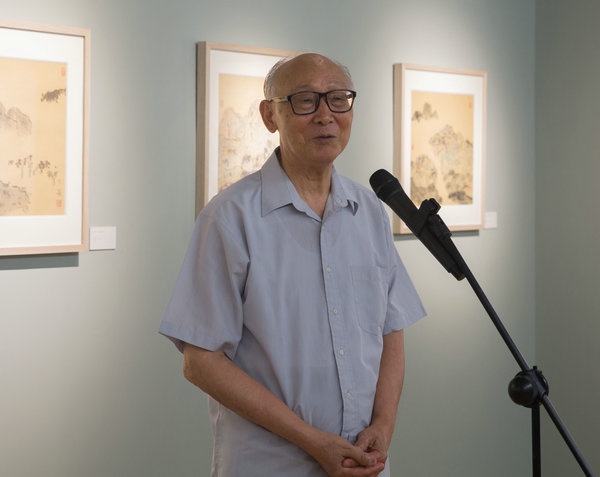 Shao Dazhen, painter and art historian.[Photo provided to China Daily]
As a well-known art historian, Shao Dazhen has written lots of books on modern art of the East and West as well as done reviews of countless artists' works for about half a century.
Shao, 82, is also fond of using ink paintings to reveal his inner thoughts.
He is now holding a solo show of his paintings at Beijing's Gauguin Gallery. On display are 20 landscape paintings Shao has done in recent years.
"I think of nothing when I paint. I just follow my heart and paint freely," says Shao.
Although he has done research on art history for decades and has produced many books, Shao says it is by experiencing painting himself that he understands art better.
It's the second time that Shao is holding a solo show of his ink paintings. In 2004, he held his first show in the Chinese capital to celebrate his 70th birthday.
Shao has been fascinated by ink painting since the 1990s. Apart from reading and writing, he spends hours painting as a kind of relaxation every day.
The subject of his paintings are always mountains and rivers, which he says is a result of his personal experience and the "accumulation of ideas" in his mind.
His love for mountains and rivers comes from a city along the Yangtze River called Zhenjiang, in East China's Jiangsu province, which is his hometown.