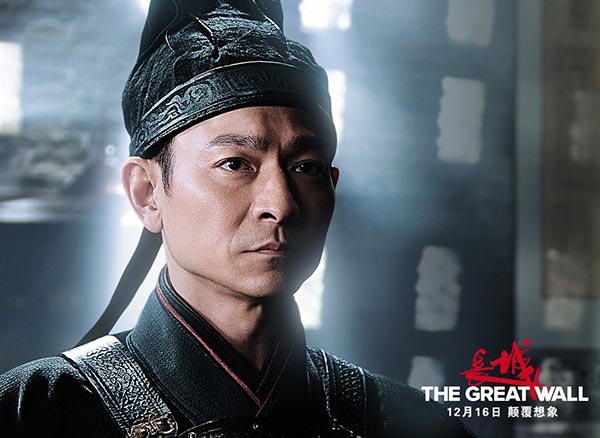 Andy Lau in "The Great Wall". [Photo/Mtime]

One of the most anticipated blockbusters "The Great Wall" released its first trailer and a set of photos, allowing movie fans a sneak peek at the all-star fantasy adventure blended with Chinese cultural elements and the world famous landmark.
The trailer, with tense and heart-pounding background music, shows off visually spectacular views of the Great Wall in fog, thousands of soldiers on a battlefield ready for war and a mysterious monster, as well as the roster views of those famous faces including Matt Damon and Andy Lau.
The film plot, as newly revealed, tells a story 1,000 years ago about how European mercenary William (played by Damon) discovers a stunning secret behind the Great Wall, one of the world's greatest wonders in ancient China. As waves of attacks by predator creatures besiege the wall, the mercenary soldier decides to start his heroic journey by joining the local elite force to fight against the unimaginable power, instead of greedily pursuing fortune.
"The Great Wall" is co-produced by China Film Co. Ltd., LeVision Pictures, Legendary Pictures and Universal Pictures and also stars some of the biggest names, including Jing Tian, Pedro Pascal, Willem Dafoe, Zhang Hanyu, Lu Han, Eddie Peng, Lin Gengxin, Zheng Kai, Huang Xuan, Cheney Chen, Karry Wang, Vicky Yu, Liu Bing and Li Heng.
The film will be the first big production from Zhang in years after he signed with new partner LeVision Pictures in 2013 and it will be his first English-speaking film. The film originally came from Legendary CEO Thomas Tull, who conceived the idea with "World War Z" writer Max Brooks.
"The fantasy element does play a major role because of the monsters. But, what makes our film unique is that these are ancient Chinese monsters," the director previously said in an interview. "Even though it's a fantasy movie, we filmed it in a very realistic way. We want it to feel like the events actually happened. Other than the monster, all aspects of this film are backed by either scientific or historical research."
"China doesn't have many stories about fighting against monsters. This time I will do it with Chinese cultural messages and make it outstanding and unique, and allow the whole world to experience China and its culture," Zhang added.
In the first Chinese trailer, there was a promotion line promising that Zhang will "overturn your imagination."
Industrial Light & Magic (ILM) and Weta Workshop will be responsible for the visual effects to ensure a high quality film reminiscent of Hollywood productions.
The film, which is the biggest movie collaboration between the United States and China ever with a budget as big as $150 million, will hit Chinese theaters on Dec 16, 2016, hoping for great box office harvests during China's New Year season. This is two months earlier than its North American release date, which falls on Feb 17, 2017, LeVision Pictures announced.
Related:
Movie 'The Great Wall' promoted in Beijing