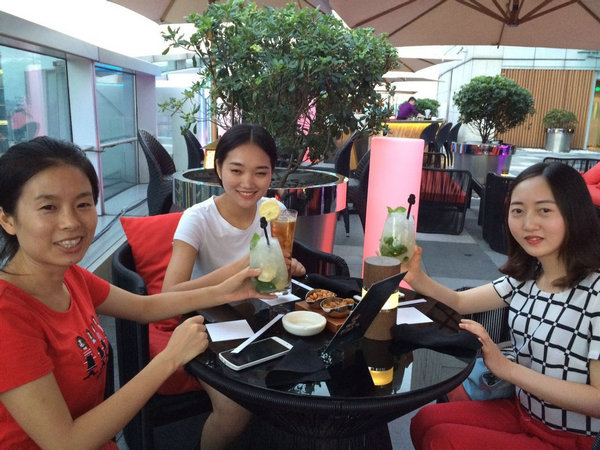 Young women enjoy Bye Joe cocktails at a bar.[Photo provided to China Daily]
World Baijiu Day, an event designed to make the rest of the world more aware of China's most popular spirit, is officially on Aug 9, but bar events in several cities are beginning early this week. This is the second year for the celebration, organized by Beijing blogger Jim Boyce, and it inspired us to look beyond the week's official events (www.worldbaijiuday.com) and see how the fabled Chinese liquor might be expanding its reach in unexpected places.
In Shanghai bars
Why is Chinese liquor a surprise in a Shanghai bar? Because in this case, we're talking about American baijiu.
The most widely distributed brand produced in the United States, Bye Joe, has made its way back to the Chinese mainland, where its base liquor is sourced.
American Matt Trusch, a self-proclaimed lover of Chinese culture, spent about 15 years in Asia before returning to his native Texas after the birth of his third child.
Calling baijiu "the juice that keeps China running," Trusch has long been convinced that the white liquor could find a place on global shelves if the alcohol level was lower than traditional mainland levels and if it was marketed as a cocktail base instead of a ganbei-style shot drink.
His Bye Joe is 35 percent alcohol, a five-year-aged light-style baijiu from China, "which we filter three or four times to give you a cleaner liquor that's a good fit for cocktail-mixing".
Targeting younger and especially female drinkers, he found that Chinese-Americans embraced Bye Joe as a song from home, especially his fruit-flavor infused brands.
"Dragon Fire, our most popular label, has notes of dragon fruit, litchi and peppercorn," he says. "Litchi has a positive olfactory sense for most Asians. It reminds them of home, of being young, and it gives a feeling of connection with something inherent to them."
That sense convinced Trusch that there was a market for his product in the Chinese mainland, where young drinkers shy away from the heavy, high-alcohol style of liquor their fathers favored.
In the past few months, several Western-style bars in Shanghai and Chengdu have featured Bye Joe cocktails, and Trusch was recently back in Shanghai to cultivate Chinese bars as well.