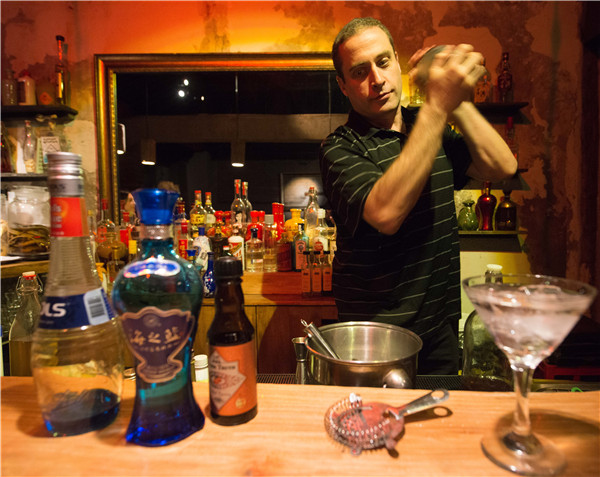 A bartender mixes a baijiu-based cocktail at Capital Spirits in Beijing.BRUNO MAESTRINI/CHINA DAILY
Individuals, groups and small firms are spreading the Chinese liquor culture overseas
Baijiu, the Chinese liquor distilled from grains including sorghum, wheat and rice, is the most consumed spirit in the world. Yet, the colorless drink remains virtually unknown outside China.
Several foreign entrepreneurs have been trying to popularize the spirit globally.
In the summer of 2014, four expatriates-William Isler, Simon Dang, Matthias Heger and Johannes Braun-opened a small bar in a historic hutong in central Beijing, and claimed it is the world's first bar dedicated to baijiu.
Named Capital Spirits, it has soon became a hotspot among the expatriates, thus challenging the notion that baijiu is failing to attract foreigners and young Chinese.
This it did by simply changing the way the traditional liquor is consumed. Instead of offering the drink by the bottle as is customary, Capital Spirits sells the fiery liquor by the glass and mixed in stylish cocktails.
The bar created such a buzz in the capital that executives from the country's main baijiu producing regions in Sichuan and Guizhou provinces travelled to Beijing to see the phenomenon with their own eyes.
"Several baijiu executives came here to ask if we could replicate what we do here on a larger scale, especially outside China," explained Isler, co-founder of Capital Spirits. "The funny thing is that the bar started as a hobby and now we see a real business opportunity here."
The quartet decided to set up a consulting company to help Chinese baijiu companies with their internationalization plans so that the clear liquor could start the conquest of foreign markets.
Their main focus is to select baijiu brands with taste profiles that are more acceptable to the Western palate and then rebrand them for the international market. The consultancy also helps producers to establish an accessible market price to lure novice drinkers in the West.
"Baijiu can be a very successful international drink. In fact, the current trend in the global spirits market is selling craft premium products with unusual flavors," added Isler. "Baijiu ticks all the boxes but you still need someone that presents the product to Westerners."