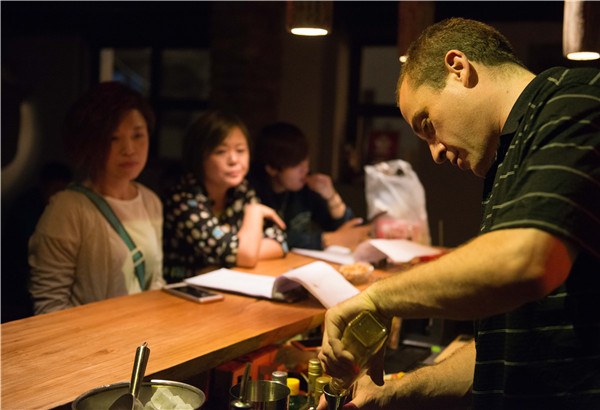 Bargoers expect to be served with the baijiu cocktail.BRUNO MAESTRINI/CHINA DAILY
Although they refuse to disclose the names of the companies they have signed contracts with, they hint that big baijiu producers are ready to expand to new markets.
"We are in a very crucial phase of the business. We are exploring to have ownership rights to the new baijiu brands that we are creating together with the producers," noted Heger, co-founder at Capital Spirits.
Last year, total retail sales of baijiu reached 508 billion yuan ($78.7 billion), according to market research firm Mintel.
The huge size of the domestic demand has traditionally discouraged local producers to pursue other markets.
However, a nationwide austerity campaign that started in 2012 had impacted sales of the high-end liquor in the domestic market, forcing manufacturers to look at foreign markets. Additionally, the domestic market is expected to shrink in the coming years as young Chinese tend to prefer imported spirits such as whiskey.
Although growing slowly, exports of the distilled drink are still insignificant compared with national consumption.
In the January-September period of 2015, China exported baijiu worth 2.9 billion yuan, according to national statistics. It mainly exports to countries in Northeast Asia and Southeast Asia through distribution centers in Hong Kong and Singapore. Industry experts calculate that exports of the fiery drink represent only 1 percent of the total production.
Making the drink popular in the West remains a crucial strategy for baijiu producers to win the hearts of Chinese millennials back home.
"The end-goal is certainly to sell some volume of baijiu outside China," explained Isler. "The real opportunity still lies here in China. They want the drink to be cool internationally so that young consumers here will purchase it."
Matt Trusch, CEO of Byejoe, an American producer and distributor of baijiu mix drinks, is among the increasing number of foreigners involved in spreading the baijiu culture overseas.
Trusch set up his company in 2013 to take on the mission of placing the high-alcohol drink in every international bar.
"I look at a bar as a mini United Nations. Every country has its own representative. There is Mexican Tequila, Russian Vodka and French Champagne," pointed out Trusch. "Then, how come Chinese culture with 5,000 years of influence on the world stage is missing in the bars?"
Trusch, who lived in Asia for 15 years, imports a light red sorghum baijiu base from China and then re-filters it in a distillery in Houston to take away impurities and to mix it with other ingredients.
The company's bestseller is Dragon Fire, a baijiu drink containing dragon fruit, lychee and hot chilies.
Although Byejoe's initial goal was to convince Westerners to drink baijiu, Trusch realized that many young Chinese consumers were also interested in trying the mix drink.
For this reason, Byejoe started introducing its creations into Chinatowns across America. Nowadays, 50 percent of its customers are Chinese living overseas.
Although Byejoe refuses to disclose annual revenues, the company says the business is expanding quickly, registering an annual average growth of 300 percent.