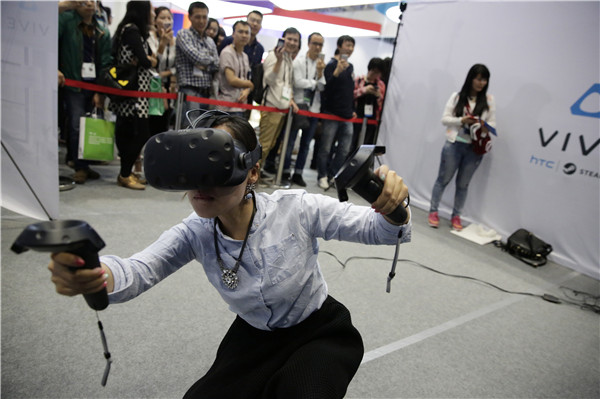 A woman plays a VR game provided by the VR device supplier HTC Vive at a mobile internet expo in Beijing.DONG DALU/CHINA DAILY
Sumavision Technologies Co Ltd, China's leading provider of video delivery, has invested $300,000 in France's VideoStitch, which is engaged in offering virtual reality video production solutions.
It said the strategic cooperation will speed up the application of the world's advanced VR technologies in China's broadcasting, TV and video sectors.
"We are committed to developing the new generation of video communication technology," said Wang Zhe, general manager of Sumavision Technologies' investment department.
Wang added that the use of VR technology as a visual experience would change the ways people receive information from all dimensions.
"We are always paying attention to this field," Wang said.
Sumavision's stock rose 0.49 percent to 8.26 yuan on Wednesday on the Shenzhen Stock Exchange.
Founded in 2000, Sumavision is mainly engaged in the research, development, production and technical services of digital television software and hardware products. It says it is a leading enterprise in promoting China's progress in so called three-network convergence, which aims to combine cable television, telecommunications and the internet into one seamless chain.
Zheng Haitao, the founder and president of Sumavision, said the most crucial part of the broadcasting and television sector now lies in live broadcast, and live VR was a very meaningful area for them.
"We focus not only on VR devices and technologies, but also the production of VR content," Zheng said.
VideoStitch focuses on the production of VR video content, especially bringing live 360-degree video content creation software to content producers all over the world.
Founded in 2012, the company has offices in Paris and Silicon Valley in the United States, and has over 1,000 customers in 45 countries, including Facebook Inc, Google Inc and YouTube. Its core team consists of VR video experts from the US and France.
The VR market is growing rapidly and a number of Chinese enterprises are moving into the sector, investing in handsets and related devices.
Goldman Sachs Group Inc has estimated that film, television and entertainment and live video will be an important application field in the sector, along with the games industry, with its market size reaching over $7 billion by 2025. It says excellent video content will be key to promoting the prosperity of the VR market.
Sumavision's Wang said he hoped that Chinese families could watch entertainment programs and sports events through VR live video technologies in future, and believed the cooperation with VideoStitch will bring about new business opportunities for both parties.
"The broadcasting and television industry needs value-added services, such as VR live video, which is a new field that has not been fully developed. However, there is a huge potential for growth," said telecom expert Fu Liang.