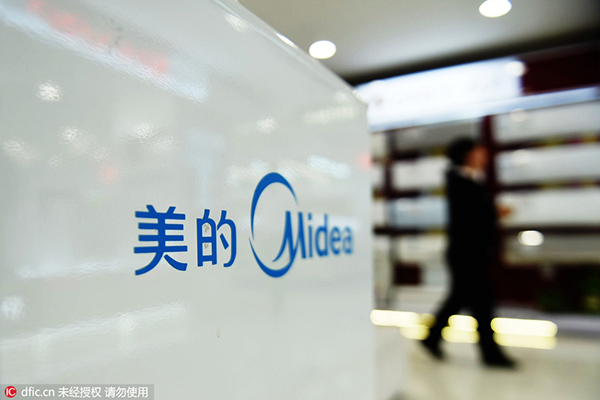 A customer walks past a counter of Midea at a home appliances store in Hangzhou city, East China's Zhejiang province, March 18, 2016. [Photo/IC]
Midea Group Co, China's biggest maker of home appliances, announced on Wednesday its intention to launch a voluntary takeover offer for all shares in KUKA AG, a leading global supplier of intelligent automation solutions.
The offer will be conducted through Midea's affiliate MECCA International Limited, at EUR 115 per share, according to a press notice issued by Midea.
The completion of the takeover offer will be subject to certain conditions, according to the notice.
The decision confirms Midea's previously stated intention to increase its shareholding in KUKA. Currently, Midea, based in Guangdong province, South China, indirectly owns 13.5 percent of KUKA's share.
"As a customer and investor, we have been impressed by KUKA's management and employees and have had constructive dialogue since building our initial stake in the company," said Paul Fang, chairman and CEO of Midea.
According to Midea, the offer will result in mutual strategic benefits through complementary businesses and joint development of robotics for applications in general industry and logistics as well as service robotics.
According to Fang, Midea would like to have a meaningful stake in KUKA above 30 percent and has no intention of concluding a domination agreement or delisting the company.
"We believe that a larger shareholding strikes the right balance between an independent KUKA while also putting both companies in a position to drive further growth through collaboration, especially in China," said Fang.
According to Fang, the investment fits perfectly into Midea's "smart" strategy, which aims to upgrade its manufacturing competencies and develop smart home devices.