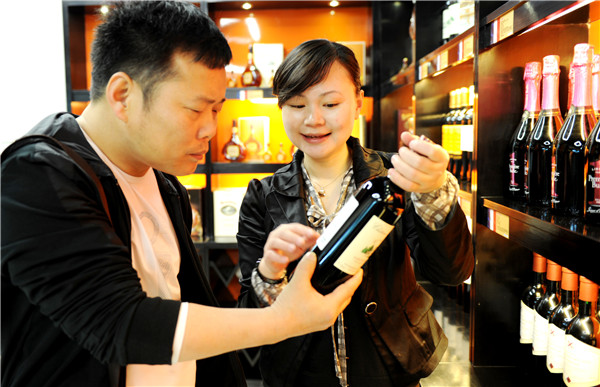 A saleswoman promotes a bottled French wine to a customer at mall in Yiwu, Zhejiang province.ZHANG CHENGJIAN/CHINA DAILY
When Rob Bevis launched Roque Fine Wine, an importer and wholesaler of fine wine, in China three years ago, he was told the country's wine market was nearing a tipping point.
The government crackdown on corruption had led to curbs on officials' extravagant, taxpayer-funded banquets. The clean-up heralded long-term benefits for the society, but had an immediate adverse impact on wine consumption in the country.
"At that time, my clients such as restaurants were primarily concerned about somehow maintaining the same level of profit margin. Diners who used to spend 2,000 yuan on a bottle of wine, were spending only 600 yuan," said Bevis.
So, sales of high-end and expensive imported wines, which were common at lavish banquets, fell in terms of both volume and revenue. Traders lost a lot of corporate and government clients. This pushed wine traders to shift their focus to individual consumers.