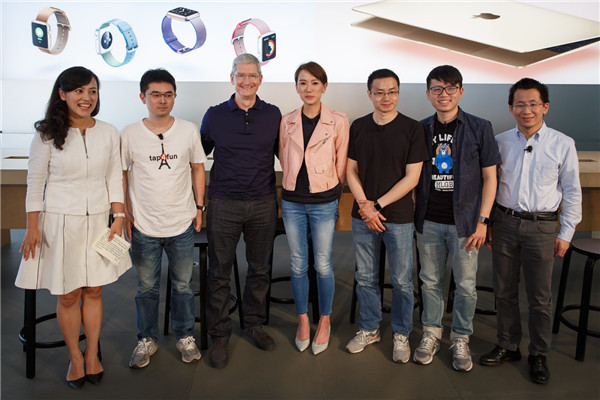 Tim Cook (third left), CEO of Apple Inc, and Liu Qing (first left), president of Didi Chuxing visit an Apple store in Beijing on Monday morning. [Provided to chinadaily.com.cn]
Tim Cook, CEO of Apple Inc, is in China again. His eighth visit to Beijing since taking over the helm of Apple in 2011 highlights how important the world's largest mobile arena is to the United States tech giant.
On Monday morning, Cook visited an Apple store in Beijing, accompanied by Liu Qing, president of Didi Chuxing, the largest ride-hailing service provider in China.
His visit came shortly after the company announced on Friday it had pumped $1 billion into Didi Chuxing, which is battling with Uber Technologies Inc for supremacy in the booming car-hailing sector.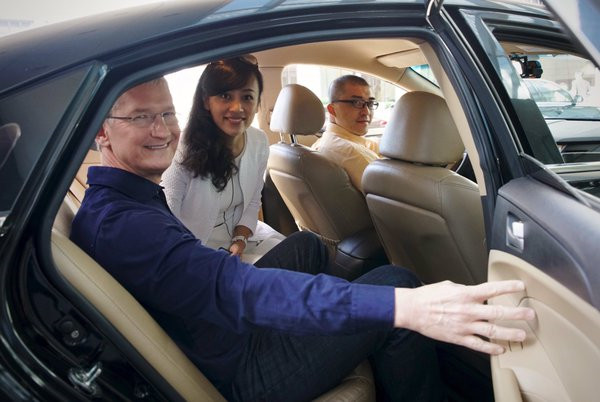 Tim Cook, CEO of Apple Inc, takes a taxi hailed via Didi Chuxing on the morning of May 16, 2016.[Photo: twitter.com / tim_cook]
When asked about why Apple invested in Didi, Cook said on Monday "because Didi has a very great management team and its objective is also environmental, hoping to help reduce pollutions by making more efficient use of cars."
Cook was in Beijing for an app store developer activity where Liu helped moderate the panel discussion.
Apple Inc also confirmed with China Daily that Mu Rongjun, senior vice-president of Meituan- Dianping; Stan Xu, CEO of Tap4Fun; Norma Chu, Founder of DayDayCook; Wu Xinhong, Founder and CEO of Meitu; Zhang Yiming, Founder and CEO of Toutiao, have attended the developer activity.
"China-based developers have now earned over $7 billion, and what is more impressive, over half of that came in the past 12 months alone. The momentum is quite strong," Cook said.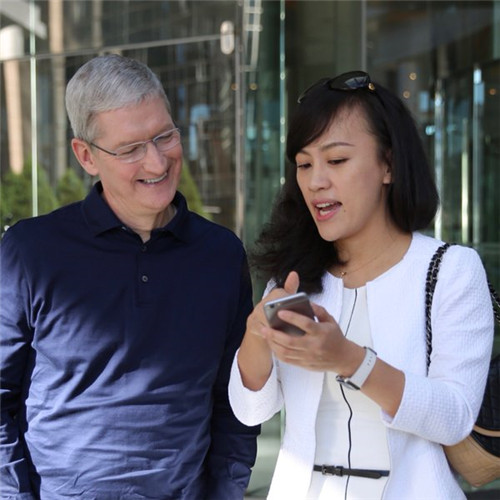 Tim Cook (left), CEO of Apple Inc talks with Liu Qing, president of Didi Chuxing on May 16 in Beijing. [Photo: twitter.com / tim_cook]
"The thing I like to do most in China is to spend time with entrepreneurs. There are so many entrepreneurs that are driving the next wave of innovations," he added.
To help local developers go global, Cook said they are already technically strong and Apple will make more efforts to help them in the marketing side.
Cook's visit also came at a time when Apple is wrestling with declining smartphone sales in China, its second-largest market. Last month, the government shut down Apple's iTunes and iBooks services in the mainland.
It is not immediately known whether Tim Cook will meet any high-level officials to discuss regulatory issues during this trip.