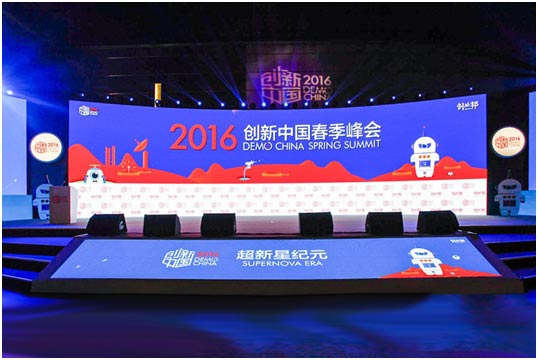 2016 Demo China Spring Summit & Spring Innovation Festival lowered the curtain at the Beijing National Conference Center, on May 12, 2016.[Provided to chinadaily.com.cn]
The three-day 2016 Demo China Spring Summit & Spring Innovation Festival held by cyzone.cn lowered the curtain Thursday at the Beijing National Conference Center. More than 30,000 entrepreneurs and investors participated in this event.
The summit, which originated in the US and has been held for 10 years in China, for the first time adopted a new mode of being held with an innovation festival. More than 300 top domestic and foreign technology and Internet companies set up exhibits.
Under the theme of "The Supernova Era", the summit involved 11 sessions, including an Investors Forum, Enterprise Service, Robot Session, Mobile Life, E-health Care, New Content, Enterprise Forum, Smart Transportation, AR/VR, overseas, and Bang Camp Graduation Show.
And the service robot radar produced by Benewake Co Ltd from the Robot Session won the Demo God Award after defeating eight entrepreneurship projects in the finals.
At the opening ceremony, Nan Lixin, CEO of cyzone.cn, said the next wave of entrepreneurship will boom in the field of science and technology and technological innovation is the foundation of economic restructuring and economic growth.
Demo can offer entrepreneurs and investors a communications platform, Xiong Xiaoge, founding partner of IDG Capital Partners said. Demo China has surpassed its American counterpart in both scale and influence after 10 years of development.
He pointed out internationalization is an important direction for entrepreneurship.
"Strongly supported by government and forced by the weak economic environment, innovation and entrepreneurship are facing their best time. Entrepreneurs in China, numerous and enthusiastic, are provided with increasing choices because China owns the largest social capital in the world," he said.
Zhang Ying, founding managing partner of Matrix Partners China, thinks China is the world's innovation center.
"If the top 100 entrepreneurs in Beijing-Tianjin-Hebei competed with American entrepreneurs in the same market, the latter would be completely defeated," he said.
Sharing his own entrepreneurship experience and opinions on the sector, Feng Xin, chairman and CEO of Beijing Baofeng Technology Co Ltd, said Baofeng's three key words in the next 10 years are "Cross-border", "Connection" and "Data Technology (DT)".
"Cross-border is necessary for expanding formats, connection means all the scene of 2C (To Customer) in the future will be connected, and DT will be the only reliable asset of all companies after 2020", he explained.
Since 2006, Demo China has assisted more than 500 enterprises in raising $3 billion in funding. It is the largest innovation enterprises show staged in China.
Zhu Lingqing contributed to this story.