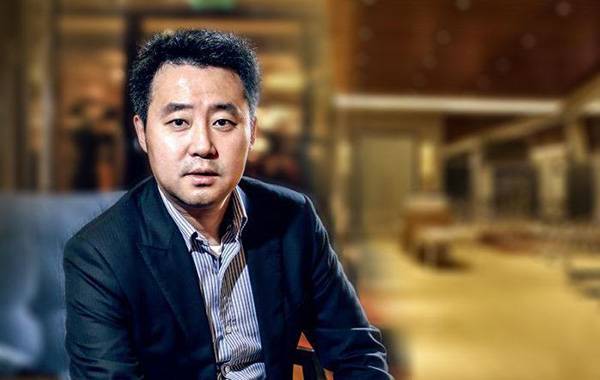 Kang Jingwei, founder and owner of IngDan.com. [Photo/sowm.cn]
Internet of Things supply chain platform to open HK store
China's entrepreneurs need a truly global perspective, according to Kang Jingwei, founder and owner of IngDan.com, as the country's largest Internet of Things supply chain platform prepares to launch its first experience center outside the mainland.
IngDan was created as a platform dedicated to connecting global intelligent hardware entrepreneurs and China-based supply chain resources.
It provides information on hardware innovation, supply-chain data and supply-chain demand docking for global Internet of Things innovators and entrepreneurs.
The company opened a 500-square-meter experience center in October in Beijing's Zhongguancun Science Park, where consumers can try out smart products and which helps entrepreneurs find suitable supply-chain resources to efficiently make smart products.
The company's new Apple-store-lookalike showroom will open on March 19 in Hong Kong's Cyberport, the city's hub of innovation, which is an important step in its own ambitious global plans.
"Our goal, from the very first day, was to become the first-ever international Internet company originated in China to operate globally," said Kang.
"Young entrepreneurs must see the world as their backyard when making proposals and development plans."
He said IngDan has prioritized expansion into developed markets. It has already opened offices in Hong Kong, California's Silicon Valley, Israel and Italy.
IngDan is a subsidiary of Cogobuy Group, a Hong Kong-listed company also founded by Kang in 2011 in Shenzhen, which operates China's largest manufacturing supply-chain platform.
Originally from southwestern China's mountainous Chongqing who moved to Shenzhen in 1991, Kang joined the ranks of Forbes' global billionaires list last year.
IngDan, which in Mandarin is a play on the words for hardware and egg, is on a mission to "hatch" smart hardware products on the Internet of Things, said the founder.
Its business model is simple: Linking innovative makers and smart hardware developers from across the world to China's manufacturing industry and supply-chain "ecosystem", which Kang sees as the country's biggest achievement over the past decades.
IngDan has already gathered a client base of more than 10,000 smart hardware developers, 80 percent of whom are from the Chinese mainland.
The rest come mainly from Silicon Valley, Israel, Europe, Japan and South Korea.
Kang said his long-term vision is for the ratio between Chinese and foreign makers to reach 50-50.
On the supply side, it links the Chinese firms with a pool of more than 8,000 manufacturers, mainly electronics factories in Shenzhen and surrounding cities.
This is a reciprocal process and "something very great", Kang said, as it will also help transform and upgrade China's manufacturing sector.
But the whole process does not stop at just matching supply and demand.
Kang sees the core of IngDan's strategy as implementing the "sharing economy", a hybrid market model which refers to the peer-to-peer-based sharing of access to goods and services, coordinated through online services.
He cites car-hailing firm Uber Technologies Inc as a typical example of the sharing economy.
"It's nothing about renting vehicles but about sharing resources," Kang said.