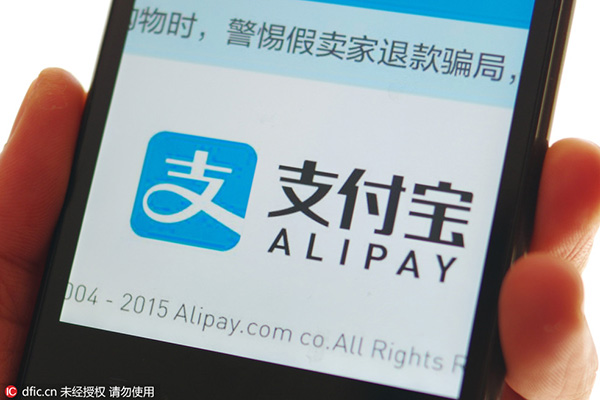 A Chinese resident uses the app of Alibaba´s online payment service Alipay on his smartphone in Jinan city, East China´s Shandong province, Oct 13, 2015. [Photo/IC]
BEIJING - Open up the app on your cellphone and pay your gas bill with just one tap.
That is what possibly could be achieved through a partnership between China's energy giant China National Petroleum Corporation (CNPC), Alibaba and its Internet finance arm Ant Financial, after the two sides signed an official agreement on Thursday.
According to a statement published on CNPC website, the partnership will focus on online maps, logistics, Internet payment, and membership sharing.
CNPC PetroChina already allows customers to add credit to their pre-paid gas cards through Ant Financial's Alipay, one of the country's leading mobile payment systems.
This agreement is a new approach by CNPC in its battle against low oil prices and signals a desire by both sides to transform the oil and gas industry, the statement said.
China is transforming its energy sector with the help of the Internet. A guideline on the "Internet Plus" strategy released by the State Council last year has listed "smart energy" as one of its 11 priorities.
CNPC and Alibaba are attempting to a system that improves the customer experience by meeting their demand, the statement said.
For Alibaba, the partnership could also mean an expansion of its logistics network, with PetroChina's over 20,000 gas stations countrywide.