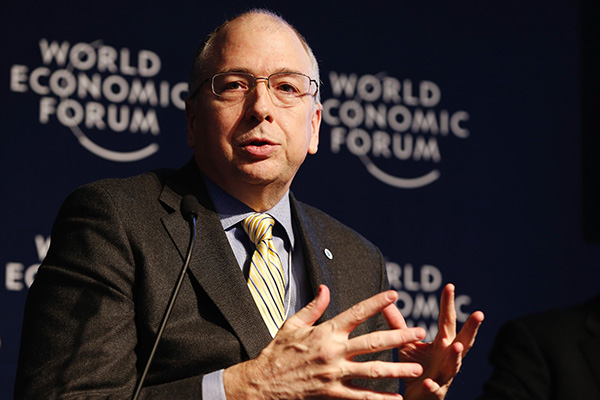 Alex Molinaroli, chief executive officer of Johnson Controls Inc. [Photo provided to China Daily]
Johnson Controls is a 'well-known' name in China, says its chief
Alex Molinaroli is the CEO of Johnson Controls Inc and he is something of a rarity in today's business world-he has spent his entire 33-year career at one company.
Has Molinaroli ever been tempted to see if the grass was greener on the other side of the fence?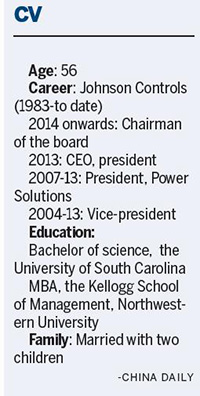 "Anytime you have been in one place for 33 years, you experience opportunities and challenges," he said.
"You work for a company of this size and scale and you get opportunities and you also find yourself at critical moments in your career.
"I think what has kept me here through the ups and downs is the foundation of this company, the fundamentals of the company and the people here. And in the end, that trumped any opportunity that might have seemed like a greener pasture."
Johnson has a long history in China, starting when it opened a branch office in 1920. It wasn't until the 1990s, though, the company established manufacturing facilities in the country.
Today the US company employs nearly 10,000 at its consolidated operations on the mainland.
Based in Milwaukee, Wisconsin, Johnson is a diversified manufacturer of car seats and batteries as well as heating, ventilation and air-conditioning equipment for buildings under the York and Johnson Controls brands.
Earlier this year Johnson and Ireland-based Tyco International Plc unveiled a merger plan. Tyco specializes in fire protection and security systems.
The combined company hopes to strengthen complementary businesses such as HVAC, fire protection and security technology as the home-products industry shifts to the use of connected products known as the Internet of Things.
Johnson plans to spin off its automotive seating and interiors business into a separate company called Adient at the beginning of 2017.
He spoke with China Daily recently about Johnson's operations in China and its partnerships. The following are edited excerpts.
There is a New Normal in China with the government aiming for about 6.5-7 percent annual growth in gross domestic product for the country. How has this affected Johnson's operations in China?
It has affected our three businesses in China differently. In our automotive business, we had a bit of a slowdown last summer because of extra inventory. Because of incentives put in place, we are now experiencing growth in our automotive business.