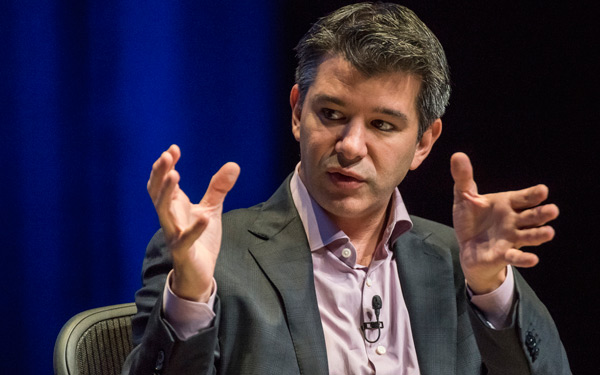 Travis Kalanick, chief executive officer of Uber Technologies Inc, speaks during the DreamForce Conference in San Francisco, the United States. [Photo/Agencies]
Watch out, Silicon Valley. China's out to eat your lunch.
So says Travis Kalanick, the Silicon Valley pioneer who steered Uber Technologies Inc. to a larger valuation than four-fifths of the companies on the Standard & Poor's 500 Index. He's now setting his sights on China: The ride-hailing company's domestic unit is valued at more than $8 billion after taking more money after the closure of its latest funding round, Kalanick told reporters in Beijing.
The Uber Chief Executive, who's personally overseeing Uber's come-from-behind battle against Didi Kuaidi, argued the country's growing cohort of entrepreneurs will eventually eclipse those that have made the Bay Area a cradle of global technology innovation.
"In the next five years, there will be more innovation, more invention, more entrepreneurship happening in China, happening in Beijing than in Silicon Valley," Kalanick said at the "Geekpark" conference in Beijing this month. That will in turn spur Chinese corporations to begin to go global and open up to entrepreneurs from outside. "We gotta play our A-game in order to compete with the best."
Kalanick's view may sit well with those who deem that the country has birthed some of Asia's largest and most well-regarded technology corporations, from social media and gaming giant Tencent Holdings Ltd to e-commerce leader Alibaba Group Holding Ltd.
Along with search-engine operator Baidu Inc, they have invested in and helped foster a plethora of startups and online services-from mobile payments and messaging to online finance-whose scope and scale outstrip those available in the United States.
Investors are beginning to take note. Investments in China and India, where most of the biggest deals are taking place, more than tripled to $16.9 billion in the third quarter, just under the $17.5 billion invested in North America as of Oct 1, according to Preqin Ltd, a London-based consultancy. Venture investors closed 1,016 deals in China up to the third quarter of 2015-more than in all of 2014.
Some of that money went to Uber. The company raised a little under $2 billion from Chinese investors last year, much of which went to Uber China. Kalanick told reporters in a group interview he needs to have a chief executive officer there who is Chinese.
"I'm really attached to the job now. It's where all the action is," he said. "I'm holding the bar at highest level," he added. "Until we find that perfect person, I will be serving as Uber China CEO."
However, some foreign companies still question the innovation of China-based companies. Just the week before last week at the Consumer Electronics Show in Las Vegas, US federal marshals raided and confiscated the wares of a Chinese company making one-wheeled skateboards for alleged patent infringements.