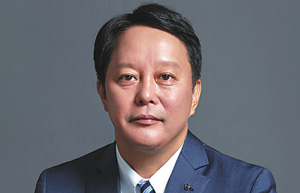 Toyota Motor Corp's luxury brand Lexus is not banking on domestic production to propel business in China despite the fact that its competitors, such as Audi, BMW and Mercedes-Benz, have seen sizable volume growth by relying on locally produced autos over the past decade.
Instead, "the company's current priority is to promote brand value among Chinese customers by offering high-quality imported products and services," said Tetsuya Ezumi, executive vice-president of Lexus China.
"Local production is a topic we are discussing, but we're not sure local production will multiply our sales rapidly. Chinese customers are more demanding and rational. They are paying greater attention to product quality, prices and services rather than where cars are produced," Ezumi told China Daily.
With a brand spirit of Takumi, which means artisan in Japanese, Lexus aims to be first in quality along its entire value chain, from products and sales to after-sales services, to boost its image among Chinese customers, he said.
"China is the most critical market for Lexus. Once we decide to produce in China, we must be successful and must overcome every detail," he said.
Lexus currently sells more than 10 imported series models in China, such as the LS, GS, ES and IS sedans, the CT Hatchback, the LX, GX, RX and NX SUVS, and seven hybrid models.
National sales last year grew by 14 percent from 2014, to 87,000 vehicles. The 2015 total makes China Lexus' second-biggest market in the world after the United States, though the figure falls far behind Audi's sales total of 570,889 units, BMW with 463,736 units and Mercedes-Benz at 373,500 units. Locally made vehicles make up the bulk of the three German luxury carmakers' sales in China, their biggest single market in the world.
Ezumi said Lexus expects to sell 100,000 cars in China this year. He predicted China would overtake the US to be the world's biggest luxury car market by 2020 with an annual volume of 3 million units, up from nearly 2 million last year.
'Golden rule'
He said Lexus has a "golden rule" in China that takes a step-by-step approach to attract more customers and boost brand value.
According to its rule, Lexus provides high-quality new cars and high-quality after-sales services to customers. As a result, cars that are sold will still have a high value when they eventually hit the used car market which will benefit both new and used car buyers.
China's used car market has great potential, Ezumi said. In 2014, used car sales in China reached 10 million units, less than a quarter of the US total.
He said some of Lexus's new cars have been competitive in their manufacturer suggested retail prices in China, despite the fact that they are imported, adding that the NX SUV and IS sedan are more affordable in comparison to locally made models from Lexus' rivals.
He said Lexus currently has 150 dealerships in China with an average inventory period of only 0.8 months, and it's the lowest inventory in the industry.