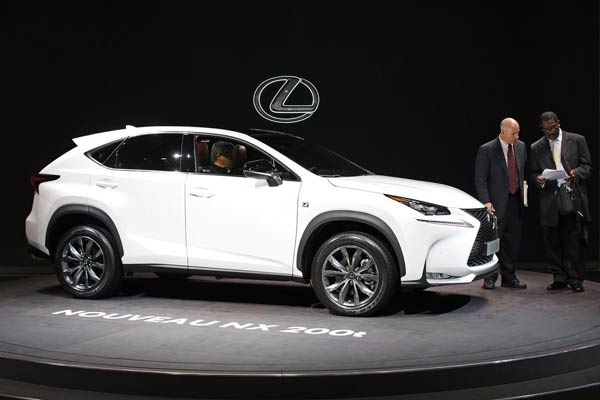 People stand next to a Lexus NX 200t displayed on media day at the Paris Mondial de l'Automobile October 2, 2014.[Photo/Agencies]
Toyota Motor Corp will likely delay building its premium Lexus brand in China for at least a few years, as growth in China's auto market slows to a crawl and a weak yen makes it cheaper to keep making cars in Japan.
Toyota wants to focus on strengthening the Lexus brand in China and increasing sales in the country to well above 100,000 vehicles a year before investing what could be hundreds of millions of dollars if it was to build a new assembly line, two company executives told Reuters.
The Japanese firm is also reluctant to share control of the Lexus business with a domestic joint venture partner - a requirement for foreign car makers building and selling vehicles in China.
"Toyota's committed to China, and we will eventually start producing Lexus cars here. There's no doubt," one of the executives told Reuters.
"But we need to do a few things before we take the plunge," he said, stressing the importance of making Lexus a "more well-recognized name" in China before committing to production there.
Momentum had been building among key Toyota leaders at the start of 2015 for a decision as early as this year to start Lexus production in China, according to one of the two Beijing-based executives with direct knowledge of the situation.
Discussions had focused on building the Lexus ES sedan or the RX crossover sport-utility vehicle SUV) in China, said the executive, who spoke on condition of anonymity.
But with China's auto market slowing down significantly – to a growth pace of just 1.4 percent in the first half of this year - it was now unlikely Toyota would take the plunge for at least another few years, probably until 2018 or later, he said.
The delay comes even as rivals such as Nissan's Infiniti, Jaguar Land Rover and General Motors' Cadillac have decided to go ahead with plans to begin production in China.
Toyota's decision also has been spurred by the yen's persistent weakness, which makes maintaining production in Japan much more competitive, according to the second Toyota executive.