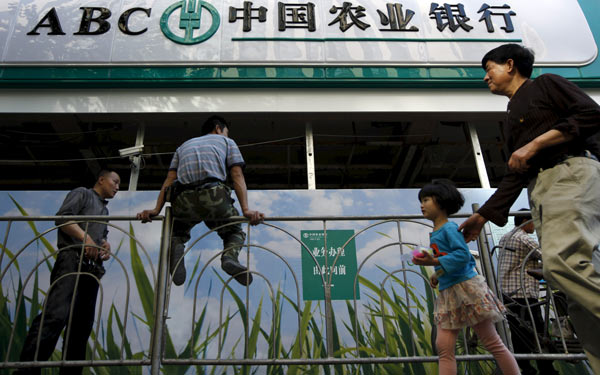 Pedestrians walk past a branch of Agricultural Bank of China in Shanghai.[Photo/China Daily]
Agricultural Bank of China acceptance bill case just 'tip of the iceberg', say sources
Rule violations, discipline breaches and illegal nexus cases with an intention to profit have been rising among Chinese bankers since last year, a new survey said on Monday.
According to the survey released by the China Banking Association and global accountancy firm PricewaterhouseCoopers, most of the violations are due to the lax implementation of the country's banking rules and weak links in the compliance management system.
The survey tracked responses of 1,328 bankers from 116 financial institutions.
On Friday, the capital market was rife with rumors that two employees of the Beijing branch of Agricultural Bank of China Ltd, one of the four largest State-owned commercial lenders, are under investigation for allegedly taking 3.9 billion yuan ($592.8 million) of bank's acceptance bills out of the branch's safe and cashing the same through repurchase transactions.
Acceptance bills are a type of IOU (an informal document acknowledging debt) that are still issued and exchanged in paper format.
Agricultural Bank of China issued a statement on Friday evening that a "material risk incident" related to "notes held under resale agreement" had occurred at its Beijing branch.
The bank said it was cooperating with the police to investigate the case and working hard to ensure the safety of the money involved.
Following the news, ABC shares fell by 0.32 percent to close at 3.1 yuan on Monday.
A considerable part of the money that was raised using the bank's acceptance bills was clandestinely reinvested in the stock market.
A banker who told Beijing-based Caixin Media Company Ltd on condition of anonymity that a large amount of money had flown into the stock market from banks through bill financing before the stock market plunged in June and these bills were not based on real trades.
He said this is a very common practice for banks in Jiangsu and Zhejiang provinces and what happened to Agricultural Bank of China is just "the tip of the iceberg".
Several large Chinese commercial banks are investigating the bill financing risks and tightening controls over the business, it said.
The China Banking Regulatory Commission also issued a risk warning notice on Dec 31, listing the major rule violations it found during an inspection on the bill business of banking institutions in the first six months of 2015.
The banking regulator forbade financial institutions to handle bill business that does not have a real trade background. It also required financial institutions to make a footnote of the information of relevant banks on the original copy of bills that have been accepted or discounted to avoid phony transactions and the reuse of invoices.
Statistics from the central bank show that the outstanding undiscounted bankers' acceptances amounted to 5.85 trillion yuan at the end of 2015, accounting for 4.2 percent of the outstanding balance of China's aggregate social financing.