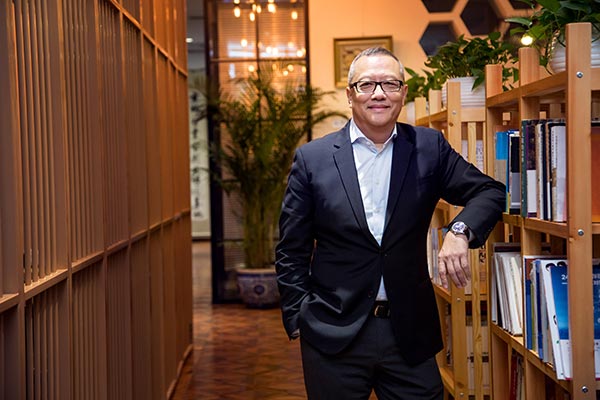 Simon Leung, vice-chairman of Netdragon Websoft Inc
Simon Leung is leading Netdragon Websoft to build an ecosystem for lifetime learners
Simon Leung, the former Greater China CEO of Microsoft Corp, is determined to lead a local company to compete in the global online education sector.
Now the vice-chairman of Netdragon Websoft Inc, a leading Chinese game and mobile app developer, Leung said he wants to create a company that would emerge as the Apple Inc of the digital education sector.
"Apple has a very mature ecosystem where its hardware, software, platforms, big data technologies and third-party applications are intertwined to promote each other," Leung said. "Our goal is to build a similar ecosystem for lifetime learners in online education."
His logic is straightforward: the Fuzhou-based company will take care of all the technologies needed to support the ecosystem while seeking partners to create learning content.
Towards this end, the Hong Kong-listed company, which sold its app store to Baidu Inc for $1.85 billion in 2013, is investing heavily to acquire both domestic and overseas companies.
In September, NetDragon completed a $130-million acquisition of Promethean World plc, a British education technology company whose learning software and interactive whiteboards are helping over 2 million teachers and 30 million students around the world.
"The acquisition of Promethean is helping us reach over 100 countries and boosting the brand image of NetDragon in international markets," Leung said, adding the deal is the company's first step towards going global.
"We'll continue buying companies that boast cutting-edge technology, best talents and those that can help us expand the global presence," the seasoned IT executive said.
On the company's shopping spree, Leung said: "This is the most time-efficient way to build an ecosystem. We already have some of the best education technologies. But it takes too long to develop all products ourselves."
Currently, NetDragon is building a cloud computing platform where app developers can use the company's online resources to develop a wide range of mobile applications to facilitate the communication between students, teachers, parents and schools.
In June, the company also acquired a voice recognition company in Suzhou, whose self-developed technology can be used to evaluate and score students' oral speeches in English examinations.
"I had spent years on helping foreign companies enter the China market. Now it is time for me to help Chinese enterprises go global," Leung said.
He joined NetDragon in 2014 after serving as the Greater China head of Microsoft and senior vice president at Motorola Inc.
Leung said he is very interested in India and the US markets. "Over half of India's population is under 35 years old. In future, we will expand China's successful business model to India."
Zhu Zhu, an analyst at the Beijing-based Internet consultancy Analysys International, said, "NetDragon is building a sprawling presence in the education sector. But China is a new player to the global education market. It remains to be seen whether NetDragon's technological edge can marry well with the local content in international markets."