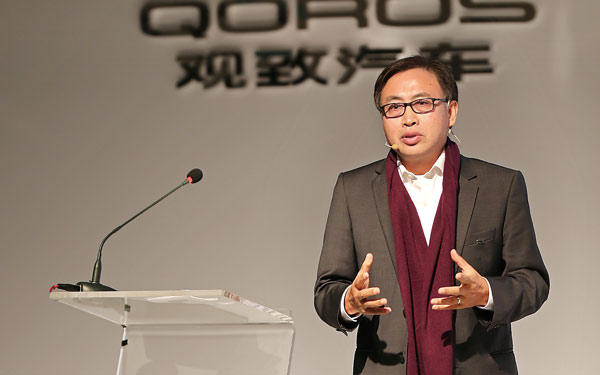 Qoros President and CEO Chen Anning predicts the company's sales this year will triple its 2015 mark, forecasting sales of about 30,000 to 50,000 units. [Photo/China Daily]
Qoros' new leadership released a series of ambitious plans half a month after its CEO resigned, though experts expressed doubt that the sweeping changes will turn things around for the company.
President Chen Anning said at a news conference on Jan 18 that sales in 2016 will triple the previous year's mark, a forecast of about 30,000 to 50,000 units sold.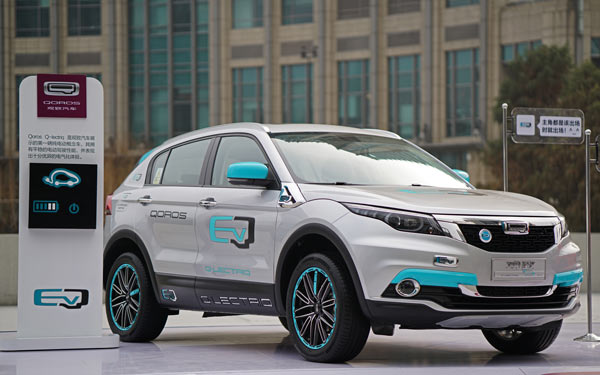 The Q-lectriq, Qoros' first electric concept car. The company will debut its first new-energy vehicle in 2017. [Photo/China Daily]
Chen took over as Qoros CEO when Phil Murtaugh offered to quit in early January "for personal reasons".
Qoros is pinning its hopes on its SUV, the Qoros 5, which it unveiled at the Guangzhou auto show in November. The automaker said the SUV would hit the market in March.
SUVs are currently the most popular vehicles in China. In 2015, SUV sales surged 52.4 percent, a striking contrast to the 4.6 percent growth for the overall Chinese auto market.
Despite the new model, Qoros might fall short of its sales target, said Simon Feng, executive director of Menutor Consulting, which is based in Shanghai.
Feng said a survey by the consulting company shows that the forthcoming SUV indeed has fans but that most of them are not new to the brand.
"They were interested in other Qoros models. That means if they buy the SUV, they will not buy other models, so the total sales will not see a great rise."
Feng speculated that the SUV might not roll off the assembly line as scheduled because it might take more time to fine-tune the model.
The Qoros 5 exhibited at an event by Chery, one of Qoros' parent companies, a month ago was not up to good production standards, he added.
Zhang Zhiyong, an independent auto analyst in Beijing, said the car's price will be a decisive factor, adding that the Qoros 5 price range of 150,000 yuan ($22,800) to 220,000 yuan is too high for a China-made SUV.
"If the price is appropriate, the sales might be good. Otherwise, it will sell at most 10,000 units a year."
In addition to gas-powered cars, Qoros released a road map for its new-energy models at the news conference, announcing the establishment of a new department dedicated to electric cars and plug-in hybrids. Chen called NEVs one of the company's two pillars.
The automaker said it will display a concept car at the forthcoming Beijing auto show, with the first production model hitting the market in 2017.
Sun Xiaodong, Qoros sales chief, said NEVs will account for 10 percent of its total car sales in the country even without any technological breakthroughs from the automaker. That figure, Sun added, will grow over time.
Feng, however, said he is not as optimistic as Sun, arguing that people cannot take it for granted that if others sell well, Qoros will sell well, too, especially when nearly every automaker is already manufacturing or selling NEVs.
"Qoros said it is an innovator but in fact it is a follower. The leadership might have a detailed plan about what it's going to do but with my limited knowledge, I find it hard to guess what innovative model it can come up with," said Feng. "I believe the move is more about boosting the confidence of industry watchers and customers than really finding a way out."