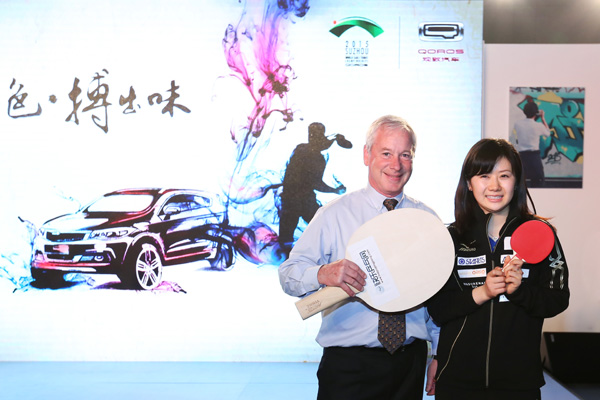 Qoros CEO Phil Murtaugh plays with Japanese star Ai Fukuhara on the last day of the Qoros 2015 World Table Tennis Championships in Suzhou on May 3. [Photo/China Daily]
Chinese automaker Qoros associates itself with one of the most popular sports in the country in the hope of increasing its brand awareness with the public.
"Table tennis is like the auto industry. Sometimes you are behind, but you will strive to catch up and stay on top," said CEO Phil Murtaugh.
Murtaugh played with and finally won over Japanese player Ai Fukuhara in front of the press and officials from the International Table Tennis Federation in Suzhou, Jiangsu province, on May 3, the last day of the Qoros 2015 World Table Tennis Championships.
Fukuhara, who has been nicknamed "Porcelain Doll" by fans in China, is arguably the most popular overseas woman table tennis player. She speaks fluent Chinese as a result of years of training in the country.
Analysts believe that sponsoring the championships, including providing vehicles for participants, will expose the brand to millions of TV viewers and fans, as table tennis is the most popular sport in China.
Qoros has sponsored table tennis since December 2013. In addition to supporting professional games, the company has launched a series of table tennis events open to amateurs in hundreds of Chinese cities since late 2014.
"We chose table tennis because we have a lot in common," Yang Yan, a public relations manager at Qoros, told China Daily.
"It is the sport that the Chinese take most pride in and Qoros wants to develop into an auto brand that the Chinese can be most proud of."
Sports marketing is used more and more in the auto industry. Some sponsorship is so well established that brands are now associated with events, such as the Volvo Ocean Race.
Yu Huan, an office clerk, said he learned a lot about Volvo's heavy trucks and construction equipment during the last race in Sanya, Hainan province. He said he would love to attend the event if he gets a chance later.
The company not only sponsors the race, but uses it as a platform to share its core values of safety, quality and environmental care.
Earlier this year, Changan Ford spent nearly 10 million yuan ($1.6 million) to become the title sponsor of the China Football Association Super Cup till 2017.
Industry insiders said the sponsorship would not only improve brand awareness for the joint venture, but also help establish its image among football fans.
The strategy works, said Zhang Hongzhong, director of the Laboratory of Communication Effects at Beijing Normal University.
Zhong cited the example of Mercedes-Benz sponsoring tennis events and starring icons such as Roger Federer in its commercials.
Zhang said his research in China since 2011 has shown that such moves have been effective in improving the brand's image. More people are describing the car giant's brand using words such as "dynamic" and "progressive", he said.