With Industrial and Commercial Bank of China Ltd topping the Forbes Global 2000 list for a third consecutive year, China's four biggest banks now occupy the top four spots for the first time.
Bank of China Ltd took over JP Morgan Chase & Co as the fourth-largest company on the business magazine's list. The other two "Big Four" banks-China Construction Bank Corp and Agricultural Bank of China Ltd-rank second and third, respectively.
Besides the four financial institutions, China National Petroleum Corp, also known as PetroChina, has also made it to the top 10, ranking eighth on the list.
The ranking has been published since 2003, and is based on four metrics: sales, profits, assets and market value.
Forbes said the list covers 61 countries and regions, and the listed companies generated total revenue of $39 trillion and total profit of $3 trillion last year.
Now, let's take a look at the top 10 biggest public companies in the world.
No 10 Wells Fargo
Sales: $90.4 billion
Profits: $23.1 billion
Assets: $1,701.4 billion
Market value: $278.3 billion
Wells Fargo & Company is an American multinational banking and financial services holding company.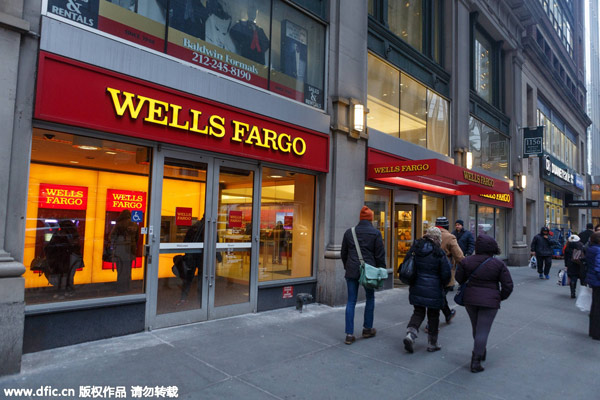 Branch of the Wells Fargo Bank in New York, Feb 26, 2015. [Photo/IC]