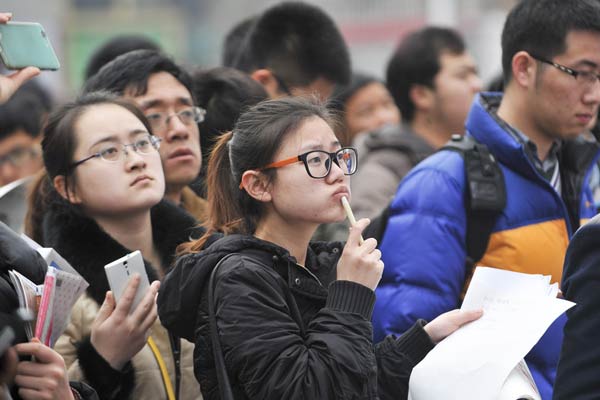 Graduates seek prospects at a job fair in Hangzhou, Zhejiang province. [Photo/China Daily]
BEIJING -- China cuts more than 300 billion yuan ($46.15 billion) of taxes in 2015 to boost mass entrepreneurship and innovation, according to official data.
Among this, tax exemptions and breaks on small enterprises reached 100 billion yuan and tax cuts designed to encourage high technology development totaled 140 billion yuan, according to the State Administration of Taxation.
In the face of economic headwinds, China is counting on mass entrepreneurship and innovation to generate new jobs and improve the skill set of its citizens, and warm up the slowing economy.
Besides, a policy to cut tax for vehicles with smaller engines resulted in nearly 15 billion of tax cuts from October to December, according to the administration.
China halved the vehicle-purchase tax to 5 percent for passenger vehicles with engines that are 1.6 liters or smaller. The tax cut took effect on October 1, 2015 and will end on December 31, 2016.