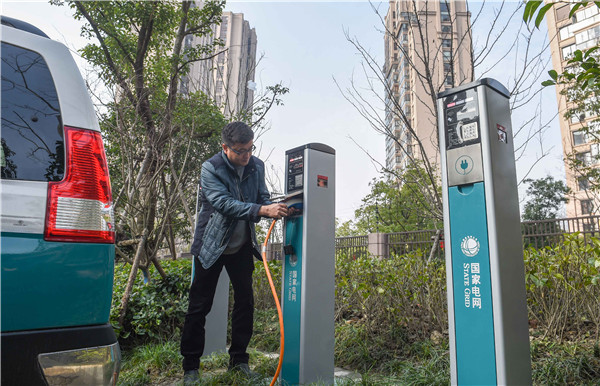 A driver charges his car at a facility in Suzhou, Jiangsu province.YANG LEI/XINHUA
The State Grid Corp of China has opened an online mall as a trial for selling new-energy vehicles, charging posts and services, but it is only open to employees at present.
Chinese local media reported last week that the nation's top power distributor opened to its staff the online platform, similar to the major players including Taobao.com and JD.com.
Employees of the State-owned enterprise were cited anonymously as saying that currently only internal staff members are able to log on with their employee numbers, and have received coupons for purchasing home appliances.
Employees were quoted as saying: "We are surprised that the company is making a foray into e-commerce. We also have a strong interest in new-energy cars, although the trial offers only home appliances at present."
The report said the State Grid's online mall has cooperation agreements with five NEV makers, including BYD Auto Sales; Beijing Electric Vehicle, or BAIC BJEV; the NEV arms of SAIC Motor, Chery Automobile, and Jianghuai Automobile.
The mall would take orders on six models including fully electric and plug-in hybrid cars with down payments of 1,000 yuan ($153), according to the sources. Those models are the BYD Qin, BAIC ES210 and EV200, Roewe E50 and 550 Plug-in and JAC IEV5.
Public relations spokespeople at both BYD and BAIC BJEV said they have no knowledge of the State Grid online mall.
Zhou Xin, an analyst at IResearch Consulting Group, said: "State Grid could be working with big dealership groups to sell NEVs, as there is great potential in the NEV market. The online mall is an approach to get closer to the end consumers and to learn more about their wants.
"Its business model is not clear yet, the company might give discounts to attract customers. If it runs this business successfully, it could be a great engine to the individual user NEV and charging post market, given it is already a major player in public charging facilities," Zhou said. IResearch is a Beijing-based consultancy that has expertise in Internet businesses.
The State Grid online mall also provides charging post building services in partnership with seven constructors, and is offering 31 products priced from thousands to tens of thousands of yuan, according to the report.
Zhou said, "Those who buy an NEV will consume the company's electricity through a charging post. NEVs are not usable without charging posts, so the cars and posts are being offered together."
Yale Zhang, managing director of Automotive Foresight (Shanghai), wrote in an article published earlier in China Daily: "Individual consumers need to 'apply for' permission to construct charging poles from property management, as well as the local state grid.
"Very often, they are refused immediately when they talk with the community's property management."
The State Council issued a guideline in October to accelerate the construction of NEV charging facilities. The guideline required that newly built residential properties must either install recharging facilities in all their parking lots, or have all the relevant components ready.
An intercity fast charging network is planned to cover the nation's major cities by 2020, with the first step covering the regions surrounding Beijing, Shanghai and Guangzhou, before expanding to more regions in central, western, and northeastern China.
haoyan@chinadaily.com.cn