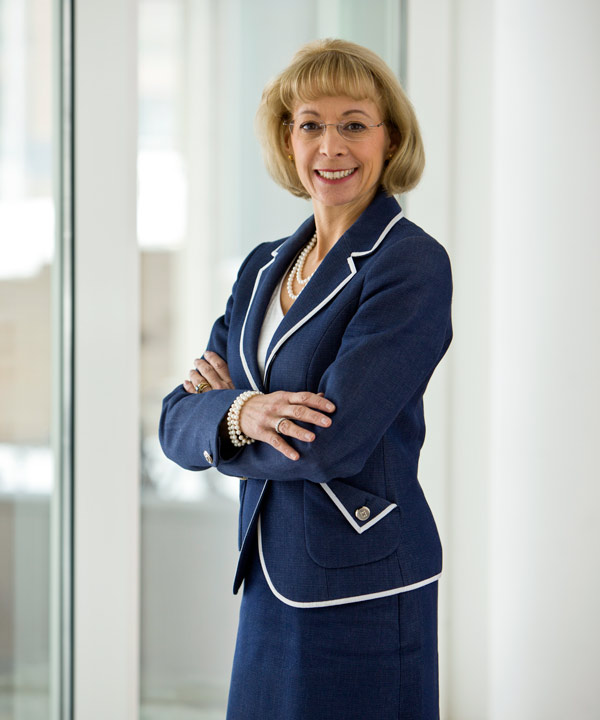 Nancy McKinstry, CEO of Wolters Kluwer, to continue investing in the China market as prospects abound
Like most of the chief executive officers heading multinational corporations, Nancy McKinstry, 56, not only puts in long hours at work but travels 50 percent of her time.
Perhaps, that is why the CEO of Wolters Kluwer, the 179-year-old, multi-billion-euro Dutch information services company, understands that time means everything for professionals.

"Unlike ordinary consumers, who may value price and performance of products, professionals value their time the most," said McKinstry.
The Holland-based, Dutch Stock Exchange-listed Wolters Kluwer is dedicated to help professionals such as lawyers and auditors to speed up their decision-making processes and increase their productivity at work. So, it publishes up-to-date information for legal, tax, finance, and healthcare professionals, and provides digital tools to help them find the regulations and rules in the most effective way.
McKinstry is looking at China to drive the company's future growth. She is convinced professionals in China are a rapidly growing group who would require services of the kind offered by Wolters Kluwer. For, regulations and rules related to law, tax, accounting, finance, auditing, compliance and healthcare are getting increasingly complicated.
"What we see in China is a combination of factors having growth potential. Such a combination will help drive a good market for us," McKinstry said.
The first American and the first woman to head the Dutch publisher, McKinstry is betting big on China. She plans to add 100 people this year to its existing 600-strong China team.
According to McKinstry, Wolters Kluwer thrives on the changes and complexity of regulations in China, unlike some multinationals that face challenges when they try to weather the rapidly changing regulatory environment.
"The information and software we provide can help people track down useful and relevant information in the most effective way and we make sure such information is up-to-date and absolutely right," she said.
McKinstry, who came to Beijing in December to celebrate the company's 30th anniversary in China, said the company entered the China market by providing big-volume books that help multinational companies build up their China business.
"Now 90 percent of our business in China is digital. Take checking the latest auditing regulation as an example. In the print era, it could take three or four days. Now, our database and software can shrink the process to within an hour. Professionals can benefit from higher productivity," she said.
McKinstry joined the company in 1992 in its North American operation, and was appointed chief executive officer in 2003. She leads the transformation of Wolters Kluwer into a digital and software solutions company.
She has been repeatedly included in lists of leading business media people as one of the most powerful women in business, including the Fortune's Global 50 Most Powerful Women in Business and the Financial Times' Top 50 Women in World Business.
She was challenged in an interview before that Google, the online search giant, would make her company redundant. She responded by saying free online information does not necessarily create value always, and what professionals really care about is a reliable brand that can offer up-to-date, accurate and authentic information.
In a "fragmented market" like China, Wolters Kluwer competes with several companies in different categories, McKinstry said. The upside is "it (the market) is still evolving and nobody is dominating. Any company that is able to bring in global products into the market, and able to quickly adapt will win."
The company had revenues of 3.66 billion euros ($4 billion) in 2014. China is one of the fastest growing markets for Wolters Kluwer. But, out of the 40 countries where the global publisher has major operations, China is the only market that Wolters Kluwer is investing more than it earns because the company, McKinstry said, adopts a deliberate strategy to keep strengthening its presence in China.
"We want to go for growth in China," she said. Through organic growth and acquisitions, the company boosted its China team from less than 100 to 600 over the past six years.
The US and other North America markets account for about 53 percent of the company's business, Europe for 39 percent and China, India and Brazil for the rest.
Rather than GDP growth, McKinstry said the company's business is driven by micro factors, such as the rise of professional groups, the growth of highly educated groups and the changes in regulations and regulatory reforms.
"The more there is change and the more complex the regulations, the more help professionals would need to make decisions in a more effective and efficient way," she said.
Time management is a key skill that McKinstry appears to have mastered. As a female CEO with two kids, she is often asked how to strike a balance between work and life.
"The secret is to make the right choice, to know when you have to show up at the child's play, and when to show up at work," she said, adding that another secret is that she has a very supportive husband.
McKinstry admitted she had no ambition to become the CEO of Wolters Kluwer when she first joined the company decades ago. She said her summer internship was the last job she was officially looking for, the other jobs were more like orders from the top - "Could you go and do that please?"
"It is always about delivering the results in the job that you have and being open to do more, that is sort of my approach to the top of the organization," she said.