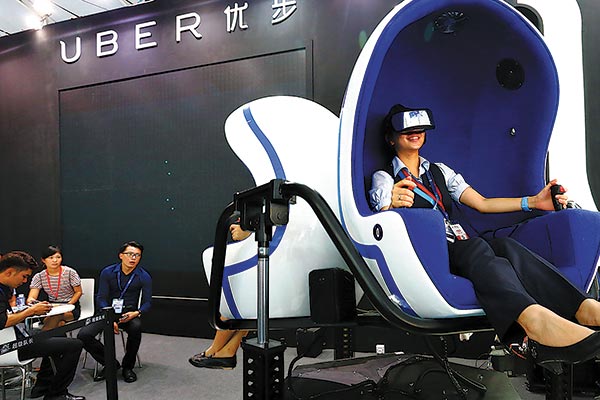 Uber has been in the headlines since it came to China last year. [LIU JIAO / FOR CHINA DAILY]
Chinese automaker Guangzhou Automobile Group is expected to become an investor in Uber's operations in China, in a move experts believe will boost the State-owned carmaker's sales performance and help the car-hailing company win legitimacy.
"One of our subsidiaries is planning to take part in Uber's B-round of financing… negotiations concerned are underway so details are not being released for the sake of the interests of the parties involved," GAC said in a reply on Dec 24 to an inquiry from the Shanghai Stock Exchange.
The inquiry came when GAC's stock price experienced a rare daily limit increase on Dec 23, one day after the Shanghai-listed automaker announced a "comprehensive" deal with Uber that covers investment, sales, maintenance as well as financing and leasing.
Uber will release results of its B-round of financing sometime after Christmas, said Liu Zhen, head of Uber's China operations, at a news conference in late November.
Analysts said the cooperation would boost GAC's performance in sales and after-sales services.
"We believe that Uber will become an important sales channel of GAC's cars and services," said Wang Dean, an auto analyst at Pingan Securities.
"It is likely that Uber users will become GAC potential customers while GAC can authorize its dealerships to recommend Uber's car-hailing app to their customers. In addition, GAC can send messages about maintenance and used cars as well as car leasing to Uber users, helping steer online customers to offline stores."
Uber entered the Chinese market in February 2014 and is now available in 22 cities. It said it has a 35 percent share in China's car-hailing market and will enter 100 cities in 2016, with the focus on those with a population of 3 million or more.
Despite the popularity of car-hailing apps, both Uber and its rival Didi were summoned this year in Beijing and Shenzhen as they were suspected of organizing private cars for transport services.
Law enforcement officials earlier this year swept Uber's offices in several cities including Chengdu and Guangzhou, where GAC is headquartered.
Yale Zhang, managing director of Automotive Foresight, said Uber's deal with GAC might prevent similar incidents and help Uber further penetrate the local market.
"Guangzhou is one of China's four top-tier cities and it might serve as a strategic point for Uber to bargain about its legitimacy nationwide if it is well established in such an important city."
Earlier this year, Uber co-founder and CEO Travis Kalanick said the company would seek Chinese investors and partners who know how to interact with the government and who can help localize Uber for the Chinese market.
At the November news conference, Liu emphasized the concept by calling the entity she oversees "China Uber" rather than Uber China.
It finished its first-round financing in September, during which the company received $1.2 billion from investors including Baidu.