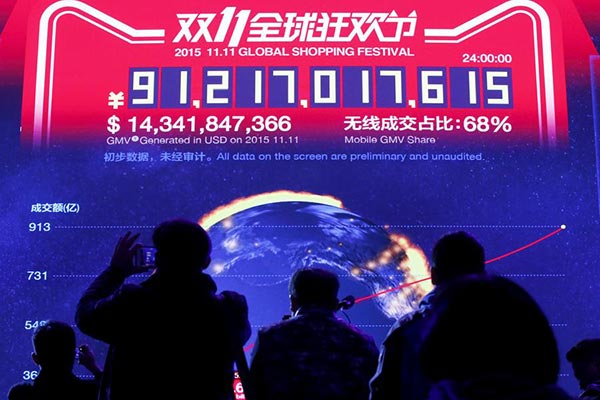 Journalists look at a screen showing total value of goods transacted at Alibaba Group's 11.11 Global shopping festival in Beijing, China, November 12, 2015. [Photo/Agencies]
BEIJING - China's online retail volume is expected to outperform the rest of the world by reaching four trillion yuan ($618 billion) this year, Commerce Minister Gao Hucheng said Sunday.
China has attained key targets outlined by the 12th Five-Year Plan by the end of 2015 to become a genuine giant trader, Gao said at a national meeting on commerce work.
China is now home to over 80,000 trade markets and total retail sales of consumer goods would reach 30 trillion yuan this year with consumption contributing to about 60 percent of total GDP growth, Gao said.
In the past five years, China's exports of goods grew at an annual average of 6.5 percent, with its share in the global market rising from 10.4 percent in 2010 to about 13.2 percent in 2015, faring much better than major global economies. Service trade grew over 13.6 percent each year, marking the world's second largest service trader.
China's actual use of foreign capital during the 2010-2015 period is expected to reach $620 billion with the tertiary sector taking over 60 percent of total foreign capital. Outbound direct investment grew at 14.2 percent annually.
China is expected to receive foreign direct investment worth $135 billion both in financial and non-financial sectors in 2015, according to Gao.
The Belt and Road Initiative is the highlight of the year, with trade volume with related countries amounting for about one quarter of the total, investment in over 50 overseas trade cooperation zones and contracting over 3,000 construction projects.
China will continue to improve market environment and tap consumption potential while developing complementary cross-border industrial and value chain with countries along the Belt and Road Initiative in the next five years, according to Gao.