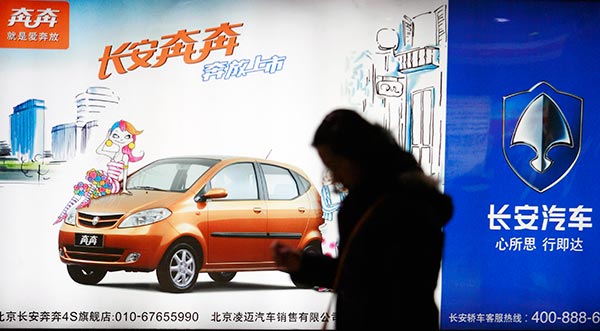 Chongqing Changan Automobile announced that it will recall 30,886 of its Benni I and Benni Love models starting from Dec 26. The company is the latest in a long list of automakers who have recalled or will make recalls of vehicles this year.[Provided to China Daily]

Faulty Takata airbags are responsible for 3.5m returns
A record number of vehicles have been recalled this year in China since the system was initiated in 2004, according to the country's top quality watchdog.
A total of 76 automakers or dealers had announced 226 recalls by Dec 18, involving 5.54 million vehicles, a 17 percent rise from the same period last year, said Yan Fengmin, an official at the General Administration of Quality Supervision, Inspection and Quarantine, at a news conference on Dec 21.
Of those, 81 recalls of 3.52 million vehicles were made after investigations by the administration, accounting for 64 percent of the total, Yan said.
Statistics show that faulty Takata airbags were a major culprit this year, resulting in the recall of more than 3.5 million vehicles in China.
Guangqi Honda topped the list of carmakers or dealers by recalling 2.35 million cars, all of which were equipped with Takata airbags.
Tianjin FAW Toyota came next by recalling nearly 480,000 cars and FAW ranked third, with 307,866 vehicles recalled.
A total of 25.3 million vehicles have been recalled since the introduction of the system in 2004. Of those recalls, 8.1 million involved engine-related problems, faulty airbags and safety belts were responsible for 4.4 million, and electrical problems caused 2.8 million.
Considering the size of the Chinese market, the figure is relatively small when compared with the number of cars recalled in developed countries. Carmakers recalled at least 60 million vehicles in the United States in 2014.
Yan said the quality watchdog would further strengthen its supervision and a detailed regulation on car recalls is expected to take effect from Jan 1.
The 43-article regulation covers six aspects ranging from information management and investigation to recalls and penalties.
Zhang Zhiyong, an independent auto analyst in Beijing, said the regulation should have included more punitive measures.
"It won't serve as a determent if violators are punished by fines of merely 30,000 yuan."
John Zeng, managing director at consultancy LMC Automotive, said that in addition to official supervision, Chinese customers' growing awareness of quality is helping prompt carmakers and dealers to recall faulty cars.
"Customers are getting younger and younger. They know more about cars than those born in previous generations and they want to defend their rights," he said.
Zeng said the watchdog is making it easier for those who find problems with their vehicles to complain, and it starts an investigation once it receives a certain number of complaints about the same problem.
Zeng said it would be more efficient if there was a separate agency dedicated to car quality supervision, such as the National Highway Traffic Safety Administration in the United States, as the quality watchdog has to supervise too many industries.