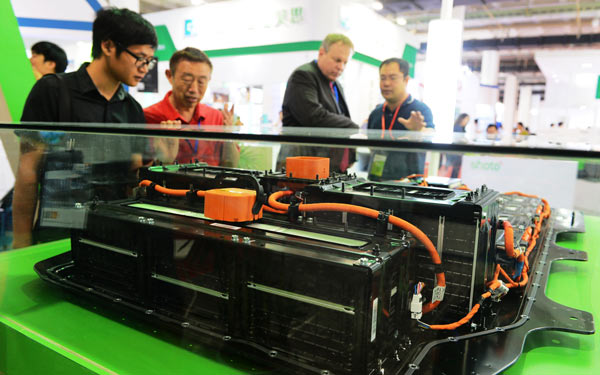 Visitors to an international battery expo in Beijing examine a new-energy vehicle battery. Market insiders warn plans need to be made for the safe disposal of such batteries in China. [Photo/China Daily]
As new-energy vehicle sales gain momentum in China, industry experts are calling for more attention to technical progress in the emerging sector in coming years.
"We might not need sales to quadruple in 2016," said Ouyang Minggao, a professor of auto engineering at Tsinghua University and leader of the country's vehicle safety and energy-saving expert panel. "Instead, I hope the year will mark more improvements in research and development.
"That will be key to the sector's popularity and ensure its fast and sound development."
Ouyang made the remarks at an industry meeting in the last days of 2015, a year in which China saw sales of new-energy vehicles, including electric cars, plug-in hybrids and fuel cell cars, surge from the previous year.
Statistics from the China Association of Automobile Manufacturers show 171,145 such vehicles were sold in the first 10 months of 2015, a 290 percent rise from the same period a year earlier, with pure electric models taking the lion's share.
Ouyang said despite rapid growth, most players in the market are Chinese automakers so it is crucial for them to seek technological breakthroughs as international vehicle makers are now taking the market more seriously.
He said China has been working toward a goal of cutting power consumption by 20 percent by 2020 so compact electric cars will use 12 kW hours per 100 km.
"For electric vehicles, producing a good battery is the main problem, and that will make electric cars still attractive when the government reduces or cancels its subsidies," Ouyang said.
In addition to battery capacity, some people are worried about how to deal with used batteries after they are removed from new-energy vehicles.
Yin Chengliang, a professor at the Institute of Automotive Engineering at Shanghai Jiaotong University, said batteries are no longer appropriate for such vehicles when their capacities shrink by 20 percent.
The China Automotive Technology and Research Center estimates there will be 120,000 to 170,000 metric tons of used batteries in the country by 2020 based on China's plan to have 5 million electric cars on the roads by then.
"A mobile phone battery is enough to pollute three swimming pools of water or to taint 1 square meter of land for 50 years. So you can imagine how severe the pollution will be if those from vehicles are not properly processed," said Wu Feng, a professor environmental science at the Beijing Institute of Technology.
Many experts said despite a central government proposal to encourage battery treatment or recycling, there have not been many effective efforts in this aspect.
"Several units of the State Grid are starting projects about using them for other purposes, but with little progress," said Sun Dongdong, an analyst at OFweek's new-energy vehicle research center.
An industry insider who asked to remain anonymous said the government should come up with practical measures for battery disposal instead of a general policy, before it is too late.