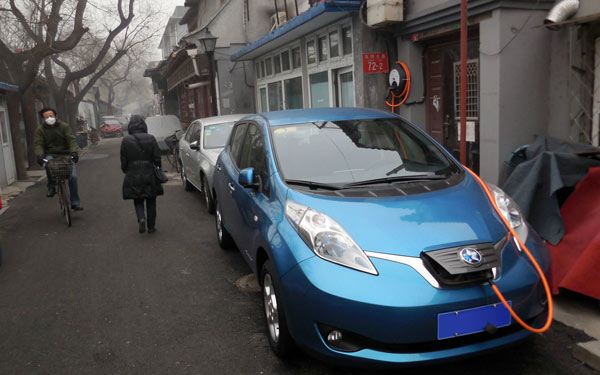 A charging facility has been added to an apartment block in Dongsishitiao Hutong so NEV owners won't use home outlets to charge their cars. [Photo/China Daily]
New regulations aim to boost confidence in electric vehicles
China has amended its new energy vehicle charging standards with an emphasis on compatibility and safety, in hopes of accelerating facility construction and boosting development of the sector.
The standards, effective from Friday, unify the charging interfaces for direct and alternating current, and are compatible with existing facilities and cars built under the former standards. The charging interface involves a plug in the charging post and an inlet in the vehicle.
Tian Shihong, director of the Standardization Administration in China, said the new standards guarantee compatibility between electric vehicles and charging facilities. They will enhance consumer confidence in electric vehicles and help boost the industry, he said.
Industrial data showed charging stations across the country had 49,000 charging posts last year, 18,000 more than in 2014. There were 290,000 NEVs in China by the end of October.
Zhang Suixin, executive vice-president of Volkswagen Group China, said: "Each new-energy vehicle requires at least one charging post. In contrast, six NEVs share one post at present.
"Many charging posts are not even working. ... There's no supervision of the fulfillment," he added.
The National Energy Administration is planning to make the standards compulsory, promote upgrades and examine the compatibility of facilities, according to a news release.
The revision also steps up safety standards to avoid the hazards of electric shock or fire. It secures safety through monitoring the temperature of equipment, and isolation and leakage of electric current. The standards also require direct current plugs be locked in place when charging.
The currently popular option of an extension cord to plug into home power outlets is clearly prohibited. Many NEV owners use home outlets cables running through a window to charge their cars, as they don't have a charging post nearby.
Chen Ning, director of Deloitte China Automotive Consulting Practice, said: "Many companies will enter this field to build compatible charging facilities following the new standards. Many companies used to be concerned about the costs in upgrades and redesign, and would rather build a charging pole that is up-to-date in one go, to avoid upgrade costs."
The administration plans to regulate access to the charging facility construction sector, and use the standards as one of the entry criteria, according to Zheng Shanjie, deputy head of the National Energy Administration.
Zhang said the NEV sector deserves to be treated like any other, such as the mobile communications field, and needs stronger day-to-day supervision, other than only entry criteria.
The major charging facility constructors - Potevio New Energy, NARI Technology Development and Beijing Huashang Sanyou New Energy Technology - are State-owned enterprises.